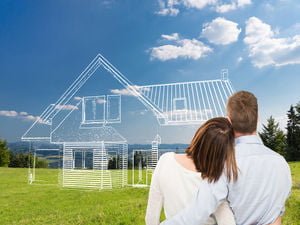 With the low inventory of homes available in the Dufferin and Caledon areas, people are considering buying vacant land and building their own dream homes. This all sounds great, but make sure you do your homework first and hire the services of a professional local REALTOR to help you find the ideal parcel of land. There are many factors to consider when purchasing vacant land. This blog is meant to highlight some of the things you should consider and talk to your local Dufferin real estate agent about.
Have Capital
You may feel you could save money by purchasing a lot and doing most of the building yourself, but there are many costs associated with going this route. First there is the cost of the raw land. Typically you cannot have a mortgage on a vacant piece of land. If you are able to find unconventional financing they most likely would want 50% down and charge a much higher interest rate. Many people purchase land by using the equity in their existing homes or savings. Land purchases usually are subject to HST as well. This is something that you need to be prepared for in your calculations. You must also be prepared for development charges and costs associated with building permits. Each municipality has different rates but budget for approximately $10,000-$25,000. This is even before you get a shovel in the ground!
USE
First you need to determine what it is you want to do. Are you building a dream home? Do you intend to farm the land or have farm animals? You would need to find a piece of land that has the correct zoning for your desired use. You may find a parcel of land and think it would be perfect to build a home but then find out it is too close to an existing farming operation and not be able to get building permits or it is not zoned for development and only for recreational use. A local Dufferin realtor will be able to help you determine the zoning and use. The price of the land typically reflects the permitted uses as well. You must be aware if the property is under the jurisdiction of a conservation authority as well. It may be under more than one! The conservation authority typically has ultimate say on whether they will permit building or not. The municipalities generally follow what the conservation deems appropriate. Dealing with the conservation authorities can take time and plenty of patience.
Location
The closer you are to a centre like Orangeville or Caledon, the higher the price per acre is. The further west or north, the lower the values of the land tend to be. Other factors that influence the price are amenities of the land and size. Is it rolling hills? Treed? Is there waterfront? Do is have access to a paved road? How close and what utilities are available? Ie. Natural gas? So many factors can affect value. Parts of Amaranth and Melancthon are very wet lands and as such need to factor in costs for grading and building elevations. A general rule of thumb, is the opening of any basement window would have to be at the same level as the middle of the road. So if the lot dips down from the road, you may have to be prepared to build from grade and back-fill. There is cost associated with this as well.
Servicing
If you have found an in-town lot or in a hamlet, you may be able to tie into the town water and sewers, but if in a rural setting, be prepared for the costs of getting water and septic. A well can run from about $7500 to $15,000 in our Dufferin and Caledon area. A septic will depend on the soil type. You can expect anywhere from $15,000 to $30,000 depending on your soil type as well as lot size which may determine the type of septic system you must use. If there is no natural gas in the area, you will have to determine an alternate heating system such as propane or geo-thermal. You will still need to be able to get electricity to your site. How close is this service available? Despite the high rates we pay for Hydroelectricity, they do not hook it up for free! Keep in mind as well, high speed internet is not necessarily available everywhere yet even though it is considered an essential service.
These are just a few things to consider when looking at purchasing vacant land. If you are looking in cottage country, there are many other considerations. That is why you must always consult a local realtor that is familiar with vacant land and familiar with the community. Part of your offer to purchase should include a Due Diligence period where you the buyer should get time to get your questions answered. In our office we always encourage the buyers to make the calls and appointments to the building departments, the conservation authorities or local contractors themselves to they get the word right from "horses mouth". We always want you to feel comfortable with the information you receive before you make the investment in buying land.