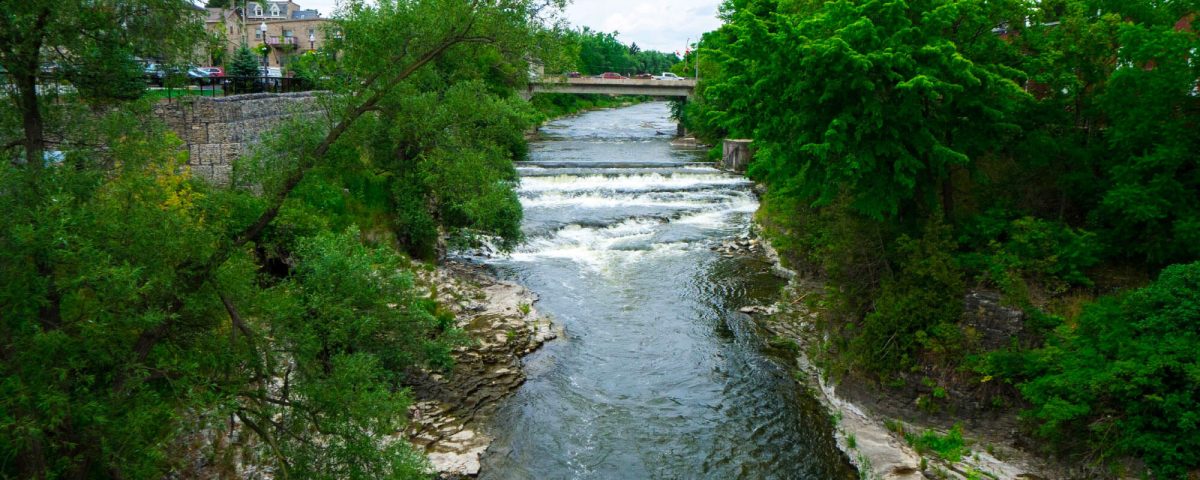 As real estate agents who specialize in Fergus Real Estate, let us show you what the Town of Fergus in Ontario has to offer as a perfect neighborhood to call home.
Looking for your dream home in Fergus? As experienced real estate agents specializing in houses for sale in Fergus, we can show you what the Fergus Real Estate market has to offer. From quaint downtown streets to stunning natural landscapes, Fergus provides a unique blend of small-town charm and modern amenities. With a variety of Fergus homes for sale, you're sure to find a property that fits your needs and lifestyle.
Formerly known as "Little Falls", the town of Fergus, Ontario is now a part of the Township of Centre Wellington, along with Elora and Belwood. Established in 1833, the town of Fergus has a rich and deep history. Having started as a Scottish settlement, the town has maintained its strong Scottish heritage and influence to the present day.
Fergus is situated along the Grand River and only a short twenty minute drive north of Guelph. A quiet community, this quaint town is filled with mature trees that line the streets downtown and along the residential lanes. Stroll the sidewalks and marvel at the beautiful stone architecture of the historic buildings in downtown Fergus.
"No longer one of Ontario's best-kept secrets, the delightful Wellington County riverside towns of Elora and Fergus, straddling the banks of the twisty Grand River, await your visit." –  Lonely Planet
Enjoy the abundant natural beauty the area has to offer. Pack a picnic and set out on a hike through the forest trails, or along the banks of the Grand River. Spend the day at the local swimming hole. The Elora Quarry is encircled by 12 metre high cliffs that fully surround a stunning sandy beach area and brilliant emerald green water perfect for swimming. Or setup camp at either the Elora Gorge Conservation Area or the Highland Pines Campgrounds.
Not into "roughing it"? The Fieldstone Barn, located on a beautiful sunflower farm, offers natural springs and a private safari-style tent for Glamping enthusiasts. Enjoy breathtaking sunsets, melodic bird songs, and cozy campfires, all while sleeping in a warm bed.
There is something for everyone in this incredible small town. Enjoy the best Southern Ontario has to offer, and make sure to visit the Fergus area.
Fergus Real Estate
The town of Fergus, Ontario has seen unprecedented growth in recent years. Even with doubling the population in a little over a decade, Fergus still remains one of the hidden gems of Southern Ontario.
Enjoy beautifully mature tree-lined streets and large properties in friendly, community focused neighbourhoods. Whether you are looking for a single family home, or a large country acreage, you are sure to find the perfect home for sale in Fergus, Ontario.
Ready to make the move to a gorgeous and peaceful country life? Contact a member of the Mullin Group today to begin the search for your perfect Fergus dream home.