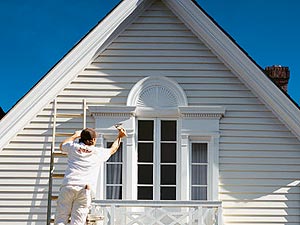 When many people think of home renovation projects, they tend to focus on the interior, since this is the living space that should be comfortable and pleasant. However, exterior renovations can not only be necessary, they can also improve the value of your Shelburne home as well as its longevity. This is an especially important point for sellers in the Shelburne area to consider, since exterior problems can also lead to some of the bigger price reductions when negotiating with a homebuyer.
At Second Glance
Another common misconception that sellers will fall into is the idea that exterior renovations are larger and more involved jobs, although this is not always the case. While these projects may seem to cover more ground, they can ultimately be more cost effective in both the long and short term.
House painting — This type of exterior remodel is not only accomplished fairly quickly, but also serves a dual purpose. Changing the outward appearance through colour can certainly increase curb appeal on your Shelburne home, but it can also protect shingles and wooden trim from rot and wear.
Roof re-shingling — Although this task is often thought of as a more involved exterior renovation, it is far less costly and easier to do than replacing an entire roof after water damage has soaked through the rafters. This also gives the seller to somewhat alter the homes appearance through different colours and styles of roofing tiles, including design work that can also appeal to buyers.
Changing gutter designs — A remodel to the gutter work can also be both functional and practical. More efficient designs will not only keep the structure of the overall home safe, but can also ensure that there is no foundational erosion from poor run-off. Changes to the design of the gutter work can also add a unique flair to your Shelburne home, which can make it stand out from other homes for sale on the Shelburne market.
Adding storm shutters — These can both protect the home during inclement weather and add some extra colour and character to the home. Further considerations such as decorative hinges and latches will add to the curb appeal and give the home a more charming character.
Most of these exterior remodel projects can be accomplished in a very cost effective manner. The value that is added, however, is both in enhancing the appearance of your home, and improving the life that new Shelburne homebuyers will get from it.