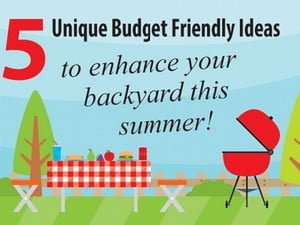 S'mores, Stargazing, Sizzling Summer! Add some personality to your backyard oasis and make your backyard sizzle!
Everyone loves to enjoy the summer nights and spend time in the backyard after a long day at work and on the weekends. Why not give your green space an upgrade? By adding some simple touches it can improve your experience and your next party will be amazing! Whether you like a quiet retreat or a yard full of laughing kids; improving your backyard can be a great investment and increase your living space in your home.
There are a few small touches that can add some value and excitement to your fun space that are budget-friendly.
LIGHTING
Backyard lighting is a great way to enhance the mood of your space. For a magical glow wrap one strand of LED bulbs around the trunk of a tree, zigzag some lights to tall structures in your yard to light up a dinner, or setup a group of tiki torches in a pot for a cool look. Make sure your backyard is ready for your next outdoor gathering
COMFORTABLE OUTDOOR SEATING
An outdoor swing is an ideal spot to take a nap or read a good book. It can add a focal point to your garden and a great sitting area to look at your flower beds. With just a few materials this simple project can be viewed on this website below.
http://www.thegardenglove.com/diy-garden-swings/
OUTDOOR MOVIE THEATRE
A great way to get the family and neighbours together in the evenings is to set up a backyard movie. Imagine being under the stars with blankets, pillows, snacks, beverages and your favourite movie playing. Check out this link for more info on this cool idea and how to setup your own personal theatre.
ADDING A WALKWAY OR PATH
Your backyard needs structure by adding a walkway or path; this allows the eye a place to rest, follow, and let you lead visitors throughout the garden and direct them through your backyard space. Value is added to the property by adding a simple path from the street to the front door why not add some further enhancement to the back of the house. Here is a link to a cute website "Young House Love" showing a homeowner adding a simple slate path and doing it themselves.
http://www.younghouselove.com/2008/09/walk-this-way/
UNIQUE FIREPIT
Beach living in the summer is so relaxing and fun. Why not consider a quiet night in front of a bonfire in a beach setting. Take your shoes off, sit back and make some s'mores with the kids. Build yourself a beach area in corner of your lot or if that seems too adventurous why not consider a miniature version by creating a beach garden in a pot using sand, driftwood and some small slow-growing plants.
http://www.sunset.com/garden/landscaping-design/how-to-make-backyard-beach
Give your backyard a makeover and create some fun memories by hosting a party or just relax and read. If your space is small or large you can enhance it in a number of ways by adding a few small touches and create the backyard of your dreams. Every detail can increase the value of your home and may help you sell your property down the road. Get out and enjoy this summer season while it is here and have fun doing it!