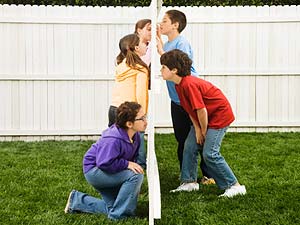 Are you a homeowner? Do you have a backyard? If so, you probably think of your backyard as your private little piece of nature, the place where you enjoy watching your children play or entertaining guests at a barbeque. However, that important sense of privacy you feel could be diminished or even eliminated entirely if you were forced to chop down a certain tree, or if your neighbours renovated their house so that they could see into your backyard.
This article will discuss some strategies you could possibly use in an effort to get back the privacy you've lost in your own backyard.
Notice the natural barriers in your yard
Your property line serves as a natural barrier through your backyard, marking what space is yours and what isn't. If , for whatever reason (budget, relations with neighbours, and style of your yard) erecting a fence isn't your best option, you might consider creating a different type of barrier along your property line. For example, you could plant a quickly growing hedge along the property line. One such type of greenery is Italian cypress. It will take a little more time, but it will grow quickly and look great, and after only a short time will be able to restore your needed privacy.
Protect your yard from nosey neighbours
Another option for changing your neighbours' line of sight and providing you with a little more privacy is to install a raised garden or flower beds. This is an especially good option if you already enjoy gardening and working in your yard. Raised flower beds can provide you with a better soil condition gardening as well as additional privacy.
Remember that normal wood fencing is not your only option
There are a number of ways for you to get creative with fencing that can provide privacy and liven up your yard at the exact same time.
Latticework fencing will allow some light and visibility through the fence, but still give you the privacy you desire. It also allows you to grow plants through the lattice, which is aesthetically pleasing.
With a little creativity and work, it's not hard to achieve ultimate privacy as well as a good looking backyard. To find out how your backyard changes will affect the overall value of your Orangeville home, contact an Orangeville real estate professional in your neighbourhood.