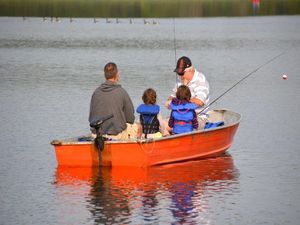 Island Lake Conservation Area is officially open for the spring, summer and fall fishing season. Anglers are able to fish for black crappie and yellow perch which are commonly known as pan fish.
The popular northern pike season begins on May 13th followed by largemouth bass on June 24th. At Island Lake Conservation Area they have a "catch and release" policy for all largemouth bass.
There are rental boats available that come with electric motors. The cost is $60 for a half day or $90 for a full day. I would advise that you call Island Lake or book online in advance to book a boat if you are planning on fishing during any given weekend. At the rental shop worms may be purchased for $3.25/dozen and live minnows for $6.19/dozen.
Kayaks, paddle boards and canoes may be rented for $20/hour or $50 for the entire day. Using kayaks for fishing has been growing in popularity. Of course, you may also fish from the south shore but not from the bridges or the north shore. There are seven wheelchair accessible fishing piers now available at Island Lake. One of the new fishing piers was sponsored by Mike and Sheila Mullin.
Dufferin County is also blessed with numerous streams that are ideal for trout fishing. The Credit River, Nottawasaga River and Grand River are a few examples of rivers where anglers can try their luck at catching trout.
Book online at www.cvcparks.ca
[metaslider id=2193]