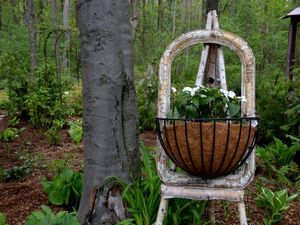 Mike Mullin just recently shared with me the importance of landscaping and curb appeal when selling homes. As a photographer, I have covered the Communities in Bloom competition where I had the opportunity of seeing several examples of very impressive and exceptional landscaping in residential, commercial and industrial areas within the Town of Orangeville. Wanda and I love gardening and we want to share some of our methods that we have used in the transformation of our backyard from a plain grassy lot to the many types of gardens we have today.
Spring has to be my most favorite time of year. I really enjoy watching our plants come to life. Gardening, I believe, is an expression of one's artistic talents. I view our property as a canvas. Instead of relying on the usage of oil or acrylic paints we use plants, rocks, antiques, birdhouses and other forms of hardscape materials to create our work of art.
Our yard is rather shady so hostas are predominant throughout our flowerbeds. We have strived to purchase many varieties to add character to our beds. Throughout the years Wanda has added many shade loving perennials and many complimentary trees and shrubs.
We have also added many decorative items to our yard. Just recently we purchased a blue heron wood carving at the Island Lake Maple Syrup Festival. The carving has been strategically placed by our upper pond in amongst ornamental grasses and hydrangeas. Wanda has also created a collection of birdhouses on one of our trees at the back of our yard. We have been to several stores within Orangeville to add to our birdhouse collection which I'm sure will grow in the years to come.
Our shed is adorned with antiques and a lobster trap that we brought home from one of our many visits to Newfoundland. Wanda has added flower pots to an antique yoke and to the lobster trap so that they have become an extension of our flowerbeds.
After a long cold winter it is so relaxing to sit outside and enjoy the sights and sounds of nature. I enjoy feeding the birds and our pond fish while watching our dog chase after the abundance of squirrels and chipmunks. "Wayne On the Move" also likes being "Wayne relaxing in the Yard" enjoying Wanda's creativity and hard work unfold.
[metaslider id=2255]