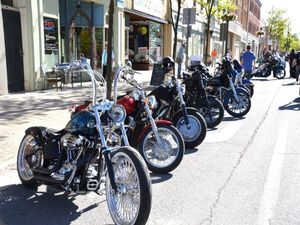 Warm weather, sunny skies, lots of vintage cars, numerous motorbikes and wonderful music all add up to a perfect weekend at the annual Orangeville Blues and Jazz Festival. While I was out taking photos on Friday night, most of the day Saturday and late Sunday I was most impressed with the large crowds. Based on numbers alone this was truly a successful event.
On Friday, along with family members, I strolled along Broadway capturing photos of the over 250 vintage cars and trucks that lined Broadway and spilled onto Mill Street. My favorites were the 1970's muscle cars. I grew up in the era of muscle cars with Mustang Boss 429, Pontiac GTO, Plymouth Road Runner, Chevy Camaro ZL1, Buick GSX, Plymouth Hemi Cuda and the Chevy Chevelle SS. I'm still in awe that there are so many vintage cars within the Orangeville area. There were musicians at all three intersections which brought Blues and Cruise to life. Opening Broadway to only pedestrians is something I look forward to each year and is one of the many reasons why the festival is very special.
On Saturday I was intrigued by the 200 motorcycles that were registered for the Blues Bikes with Harley Davison being the predominant bike of choice. I took close to 100 photos of the bikes which made the selection of three photos for this week's blog a monumental challenge.
The festival is all about the music. On Sunday, while running on the trail at Island Lake, I could hear the music in the background which was a bonus for my daily run. All weekend there were numerous venues hosting artists offering a wide assortment of music. Without question the Orangeville Blues and Jazz Festival has put Orangeville on the map for all of the right reasons.
[metaslider id=2299]