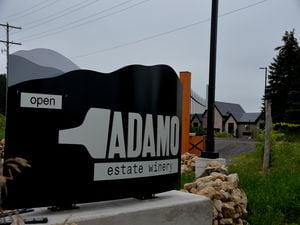 A lot has been written about the Adamo Estate Winery in the local papers and magazines so out of curiosity I contacted Shannon Smith who is the Director of Marketing for the Hockley Valley Resort to arrange for a tour. On Thursday, August 3rd at 11:00 am I was greeted by Shannon in the very impressive front foyer. She pointed out the various rooms and sent me on my way to snap photos.
Immediately inside the front doors is the stunning Paddock Café with an adjoining tasting bar. You can check the winery's menu and time for tours on their website. You then climb a set of stairs to the "Great Room". The name is truly appropriate because of its size and décor. Shannon explained that the room can seat up to 100 depending upon the arrangement of tables that is being requested for weddings and other functions. I ventured out onto the upper patio deck and took in the breathtaking views of the adjacent countryside. What a great place to enjoy your favourite glass of Adamo wine.
The basement cellar offers an intimate space in which to leisurely sip your choice of red or white wine.
The outdoors provides many breathtaking spaces for taking individual or group photos for any occasion. As I roamed the property many selfies were being taken by visiting tourists. What impressed me the most was the winery's attempt to capture the feel of an Italian vineyard. If you haven't visited the Adamo Estate Winery be sure to add it to your to do list.
[metaslider id=2443]