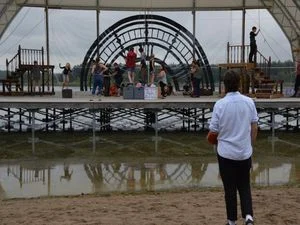 As mentioned in a precious blog entitled "What is It", Theatre Orangeville presented a vision of having a theatre on the water at Island Lake. That vision has now become a reality. From Friday August 25 to Sunday August 27 the Young Company will be performing Peter Pan. This will be the inaugural performance at the Island Lake Amphitheatre.
The photos with this week's blog were taken on Wednesday, August 16 during a morning rehearsal. I was most impressed with the stage design and the numerous young actors taking directions from Dan Reale. David Nairn, who was watching from shore, explained that Dan is a long time member of Theatre Orangeville's Young Company. David Nairn, the assistant director for this production, stated that we are lucky to have the very talented Dan Reale directing Peter Pan.
David Nairn shared with me that there are some amazing surprises for the audience and that he is very happy that tickets are selling quickly. The audience may either bring their own chairs or blanket to sit on. Audience will have their choice of sitting on the sandy beach or the grassy field in front of the water front stage. Adult ticket prices are $18, students $15 and children (3 to 5) $8. Performances are as follows: Friday, August 25 at 6:00 pm, Saturday, August 26 there is an afternoon performance is at 2:00 pm followed by an evening performance at 6:00 pm. The show wraps up on Sunday with an afternoon starting time of 2:00 pm. Tickets are available at www.theatreorangeville.ca or call the box office at 519 942 3423.
Don't be disappointed that you missed this historical event at Island Lake Conservation Area so order your tickets today. Not every community can boast that they have an open water amphitheatre. Young Company offers opportunities for children to develop their acting skills. These are two reasons why The Mullin Group encourages people to consider Orangeville and the surrounding area for their next home.
[metaslider id=2481]