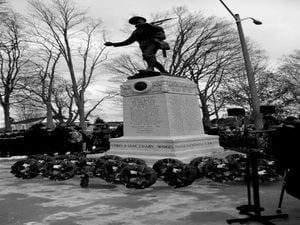 With an early morning wind chill of minus 16, my first thoughts were that the attendance at the Remembrance Day Service would be down. When I first arrived, I was truly amazed by the size of the crowd. In the past, large groups of students from the local elementary and secondary schools would boost the attendance. It was a pleasant surprise to see so many children and teenagers at today's service.
With the large number of people in attendance Rose Elsdon was beaming with pride. I'm sure the members of Legion were equally happy that the Orangeville community showed their support for such an important event.
The new accessibility walkway to and around the cenotaph was a welcomed improvement. It was a truly brilliant idea that should have been implemented years ago. The larger area around the cenotaph allowed for easier placement and space for more wreaths.
The traditional Remembrance Day Service was a fitting tribute to the many young men and women who sacrificed their lives so that we can enjoy the freedom we have today.
[metaslider id=2725]