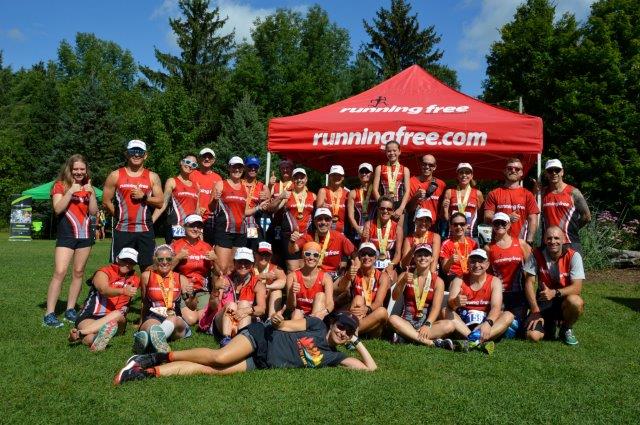 On a very warm and humid Monday morning here in Dufferin County, Jodi McNeill and Norman Nadon, owners of Orangeville Running Free, hosted the annual Island Lake Classic for the first time. The event was created and hosted by Margery Cruise and Bob Collin of Run Dufferin up until this year. Although they are now retired they volunteer and supported this year's race. Jodi and Norm presented them with a wonderful gift during the awards presentation in recognition of their contributions to the local running community.
Jodi reported that both the 5K and 10K races were capped at 150 participants and were filled by the start of the race. All racers received a beautifully designed medal.
The day began with a 500 meter "Kids Fun Run" that had 50 children along with some adults enthusiastically racing around a trail designed by Norm. As the event photographer, I was able to capture many great photos of the children approaching the finish line. After crossing the finish line they were immediately congratulated by proud parents.
The 10K racers followed the trail that circumvents Island Lake and the 5K racers ran a course following the network of trails in and around the sugar shack area. In all, everyone appeared to have a lot of fun.
Jodi McNeill addressed all participants with a very emotional speech about Paul Elford, who was a Running Free member and who recently passed away after suffering a heart attack. The race was being run in his memory. Red wrist bands featuring the wording "Run for Paul" were being given out for a minimal donation of $5.00. All proceeds are going toward the purchase of a memorial bench that will be placed along the Vicki Barron Lakeside trail.
[metaslider id=13584]