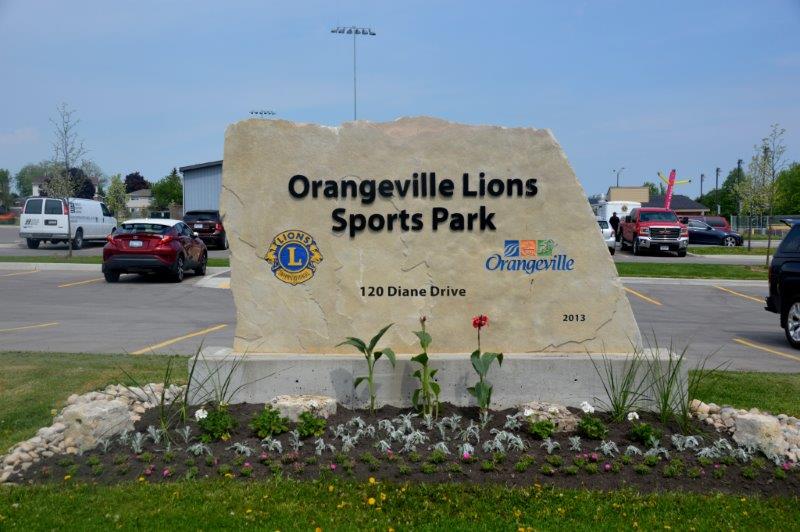 With tremendous pride and a great sense of accomplishment the Orangeville Lions Club, along with the Town of Orangeville, hosted the grand opening of the Orangeville Lions Sports Park on Saturday, May 26th.  Several Lions were busy cooking and handing out free hot dogs along with a wide variety of drinks as guests and dignitaries arrived.
The event was chaired by Councilor Don Kid who graciously thanked the members of the Orangeville Lions club whose collective effort transformed conceptual drawing of a sports park into a reality. Lions President Dan Roach expressed his personal thanks to all the members of the Orangeville Lions Club, who since 2013, have contributed numerous hours of free labor to assist in the design and construction of both the sports pad and pavilion.
The park started with the Lions constructing a sports pad in 2013. The pad provided a place for ball hockey to be played throughout the year. Lights were eventually added to deal with the short winter days.
The Town of Orangeville Parks and Recreation Department successfully added two soccer fields, a new washroom facility, playground and exercise equipment and a walking trail.
The Lions added a very large picnic shelter in the fall of 2017. The Lions Memorial Pavilion is so impressive that the town has already received inquiries in regards to renting it out to families.
The Town of Orangeville has kept pace with its ever growing population in providing recreational facilities. The town now has several soccer fields, baseball diamonds, two arenas, two indoor swimming pools, two splash pads, BMX Park and a network of cycling and walking trails.  All more reasons people choose to make the move to Orangeville.
[metaslider id="10300″]