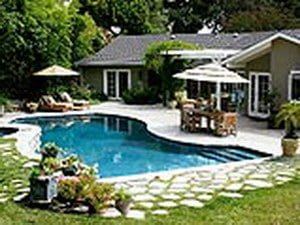 So you're thinking its time to list your Orangeville home for sale and have decided that you will list it to hit the Spring Market. Perhaps you have a beautifully landscaped yard, a pool that you enjoy all summer long or some other outside feature that you know will help sell your home on the MLS® Market.
The challenge that comes with Selling your Orangeville Home
Here comes the challenge … if the weather is anywhere close to the weather we often experience here in Orangeville Ontario, those beautiful gardens, manicured yards and that wonderful swimming pool may still be covered in snow.
Taken seasonal photos of your Orangeville Home
It is a great idea to take photo's of your Orangeville home in all four seasons. Capture your prize winning roses, the fabulous deck or the refreshing pool when they are at they are at their best.
Remember to make sure there are NO people in the pictures. These pictures will act as a great tool for your REALTOR® to help promote your Orangeville home in the off season, giving you an advantage over other Orangeville homes that you have be competing with that are listed for sale.
Not only will these pictures serve you well for the sale process when you decide to list your Orangeville home, they will also serve as great memories once you find a new place to call home.