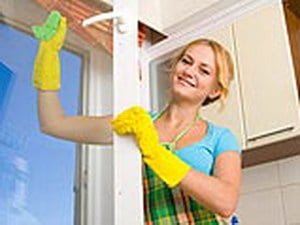 Keeping your Orangeville Home in tip top shape throughout all season will make it much easier to get ready should you decide to sell your Orangeville Home. Here are some spring cleaning tips to get your started.
Start with your Kitchen
DUST THE REFRIGERATOR COILS: Turn off the power at the circuit breaker or fuse box. Clean the coils with the crevice attachment for your vacuum cleaner. The coils are usually located at the bottom of the refrigerator, under the grill.
EMPTY AND CLEAN THE FRIDGE: Turn the power off. Remove and go through items in the refrigerator, discarding any expired items. Thoroughly wash drawers, bins, walls and shelves using a solution of water mixed with a mild dish washing liquid. Ensure everything is dry before returning items back.
DEFROST THE FREEZER: Again, be sure to have the power turned off at the circuit breaker or fuse box. Empty the freezer's contents and dispose of anything that may have exceeded its lifespan or anything that has freezer burn. Store what you'll be putting back in coolers with ice packs to prevent anything from defrosting. This is a cleaning task best tackled when your freezer is not too full.
Bedrooms
ROTATE YOUR MATTRESS: Turn your mattress over or rotate it 90 degrees if it's a pillow top. This will help to distribute the wear evenly.
CHANGE BED LINENS: Replace your heavy winter linens with cooler summer linens
CLEAN PILLOWS: Most pillows can be washed (be sure to check the labels & follow manufacturers suggestions) Washing pillows rids them or mold, bacteria and odours.
Closets
REPLACE YOUR WINTER WEAR WITH SPRING WEAR: Wash or Dry-clean winter garments before storing them away for the season. It's a good idea to store them in a container or sealed garment bags until you need them again.
DONATE ITEMS YOU NO LONGER USE: This is a great idea for all the closets in the house. Many charities are happy to accept gently used clothing and housewares. If you haven't used it in the past year consider donating it.
Living Room
CLEAN UPHOLSTERED FURNISHINGS: Take cushions outside and gently beat them by hand to remove dust. If there are stains, check care labels for recommendations regarding cleaning. Use your vacuum's crevice tools to clean under the seat cushions.
EXCHANGE HEAVY LINENS FOR LIGHTWEIGHT ONES: Clean items like blankets, pillows and blankets before storing them away. Labeling items before storing them away will make bringing them back out in the fall much easier.
Home Office
ORGANIZE FILES: This is a great time to review insurance policies, contracts and household inventories.
PERFORM A THOROUGH CLEAN: Remove items from book cases, desktops and bulletin boards. Do a good purge and a thorough dusting and wiping of all surfaces, including your computer. Be sure to use the manufacturer's suggested cleaning products. Lint free cloths and cotton swaps work well.
Bathrooms
CLEAN OUT UNDER THE SINK AND THE MEDICINE CABINETS We often use products and then store them away under the sink only to forget about them. Pull everything out and organize this space. Discard anything that is expired and give the surfaces a thorough cleaning before placing back only the items you are sure to use. Use baskets or bins to keep things tidy.
UPDATE YOUR FIRST AID KIT Make sure you're prepared with bandages, ointments and emergency numbers, especially the one for your nearest poison-control center.
Utility Spaces
GIVE AWAY OR DISCARD UNWANTED ITEMS: If you aren't planning on using it in the next 6 months perhaps it's time to find it a new home. Sort items into categories, Keep, Donate, and Dispose. Be sure to dispose of household waste such as paint and electronics properly at your local waste facility.
HAVE A GARAGE SALE: Ask your neighbours if they'd like to organize a street sale. A community garage sale is often more successful. Encourage the entire family to help out, put the proceeds towards something enjoyable for everyone.
PROTECT ITEMS IN THE BASEMENT: It's important to keep storage boxes off the ground. Use blocks or shelving units to do so.
Outdoor Spaces
CLEAN PORCH CEILINGS AND WALLS: Sweep up cobwebs and debris with a broom. Wash your mailbox, light fixtures and around the front door with a mild solution of dish washing liquid mixed with water.
WASH OUTDOOR FURNITURE: Most material such as aluminum, plastic, wood and wicker can be cleaned with a solution of mild dish washing liquid and water and a soft bristle brush.
SCRUB DECKS, PATIOS, DRIVEWAYS AND WALKWAYS: A pressure washer may come in handy here.
Throughout the House
DUSTING: Give the entire house a thorough dusting. Take books and knickknacks off the furniture and shelving.
ENSURE FIRE SAFETY: Chance batteries in smoke and carbon monoxide detectors (this should be done twice a year) and make sure units are free of dust.
CLEAN WINDOW TREATMENTS: Many draperies are machine washable; check labels. Wipe blinds with a damp cloth.
WASH WINDOWS AND SCREENS: Use white vinegar and water for windows and water and a mild dish washing liquid for screens. Be sure to take appropriate safety steps if using a ladder.