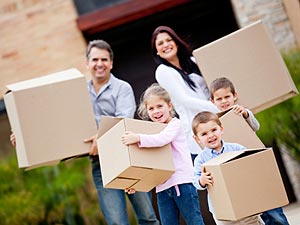 Whether you've been in your current home for a year or a decade, moving can be stressful. Don't fret. Some careful planning and preparation will have you loaded up and happily entertaining friends in your new home without extra worry or disaster. Here are a few tips to kick off moving day right.
Start the purge early. The moment you begin to contemplate a move is the time to start paring down your belongings. If you don't need it, love it or feel blessed when you look at it, the item must go. Take one room at a time and sort through everything. Place articles that are good but not needed by you, into a box to donate. Anything that's served its purpose should be dumped into the trash. Of course, recycle whenever possible.
Make a moving day plan. By organizing ahead of time, you'll be prepared for many of the inevitable hiccups. Map out your day taking care to list supplies you'll need. Have moving blankets, bungee cords, rope, tape and Band Aids on hand. Label boxes with the name of the room to which they belong. When you reach your new home, place signs on the doors so the people helping you can easily identify where to deposit labeled boxes.
Move your services. Contact the companies you contract with early so utilities like your electricity and cable are ready to go when you arrive. Make sure you've filled out and returned a change of address card to the post office or completed the request online.
Seek help for the big day. As soon as your move is scheduled, send out invitations to friends and family who might be willing to help. Make sure they know the exact time you're planning to start, approximate time you'll be done and what you'll be providing. If you need pickups, handcarts or any other kind of equipment, let them know.
Don't forget the cleanup. Once all those boxes are out of your old space, you'll need to do a final clean. Ask a couple people in your moving crew to help with this project. Set aside buckets, cleaning products and plenty of rags. When you're all done, toss the supplies in the buckets, say goodbye to a clean house and move on to your new place.
Thank your helpers. Whether by providing a fun meal at the end of the work, or by offering a special card or gift, make sure those who took time away from their lives to help feel your appreciation.
Now that you're home, you can get to the work of unpacking those boxes with the delightful knowledge that they're filled with only things you love and need. Welcome home.
By C.S. Nelson