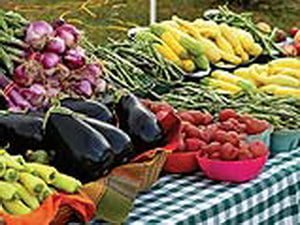 Orangeville Ontario just turned 150 this year and the year-long celebrations have begun. The Orangeville Farmers' Market is proud to celebrate the Town's Sesquicentennial with the best that local has to offer!
Our 22nd season is set to be our best yet, with all of the old favourites and some new vendors set to offer Market goers with all that is fresh, local and delicious!
Opening Day of the Orangeville Farmers' Market is Saturday, May 11th and the ladies of Orangeville Insurance, along with a special guest or two are looking forward to flipping some flapjacks at the free pancake breakfast!
Reconnect with your community, bring the kids and come out to enjoy pony rides, a petting zoo, entertainment and free face painting courtesy of the Businesses and Merchants of Downtown Orangeville.
Take advantage of the free supervised activities for kids offered by the Town of Orangeville's in Motion group and shop the Farmers' Market at your leisure every Saturday. Market Saturdays are special – celebrate small town living and make this the year that you see what all the fuss is about!
If you live in Orangeville or the surrounding area you already know that downtown has a lot going for it – it's a big part of why so many families relocate here or why so many have stayed for generations. It's beautiful, it has character, it has lots of great locally owned stores & restaurants as well as a vast array of service businesses to help you with whatever you need. We have truly wonderful art; superb live, professional theatre; great live music; and a spectacular train ride just around the corner. Go ahead and give yourself an excuse to come Downtown and treat yourself to something special, a great coffee, something fabulous for yourself or something beautiful and practical for your home.
Support your business neighbours and Live Local, Buy Local and you won't be sorry, if fact, you will probably wonder why you don't do it more often!