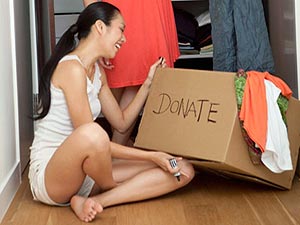 Winter is almost over and its time you get started on your spring cleaning. This should be the perfect time to get your Orangeville home ready to match the beautiful weather that is just around the corner. Here are a few spring tips for cleaning and organizing.
Cleaning out your Closets
With winter season out of the way, all the warm clothes such as gloves, winter boots, heavy jackets and your woolen scarfs need to be packed up giving room for lighter clothing. As your bedrooms are changed, this is a good way to get you started for spring as you also identify the clothes you no longer wear that can be given off as gifts or charity.
Rearrange your Bookshelves, Countertops and Desktops
Rearranging these work stations and bookshelves will leave your home neat and tidy. It is common to have books lying around as you and your visitors tried to keep busy indoors during winter. It is about time you also get paperwork in order in your home office with a number of organizational tools e.g additional shelves and some files to help you keep order of the old bills and receipts. Anything else that is not in use should be thrown out.
Get Rid of Stains and Odours through Scrubbing
Winter will keep you indoors majority of the time and there is bound to be accumulated dirt, stains and odor from the moisture. Get started by wiping your walls off the scuff marks and dust with a wet cloth. In the event that the stains are too stubborn for just water, then you can use some warm water with a little dish-washing soap. High traffic areas such as entrance halls and the front door surrounding that were in use frequently may need to be repainted.Walls done, floors are next. If your home is carpeted, be sure to hire experts to clean it up since it has not been cleaned or aired for quite some time. Get an expert as soon as the winter season is out of the way and the kids are back to school. Once its clean, shoes should be left at the door step and socks retained on your feet to avoid oiling your freshly cleaned carpet with natural body oils. The house rugs must be vacuumed and dusted. Once you are done cleaning the hardwood floors, ensure that you also clean the kitchen and bathroom floors on the same day. Get your bathtub, toilets and showers spotless. Empty the fridge and freezer and scrub them spotless getting rid of any odors or stains.With all of the above done, reward yourself with some spring flowers.