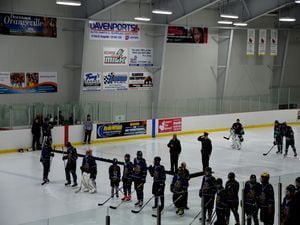 The Orangeville Wolves hockey program was founded in 1999 to provide developmentally challenged youth and adults to play organized hockey. Every Sunday 30 to 40 players practice and engage in a game of hockey at the Alder Street Arena. The Wolves also actively play games against teams in other communities as far away as Ottawa.
The goals established by the executive are to have fun, learn hockey skills, comradery, sportsmanship and to keep fit.
The team has been highly successful under the strong leadership team of president Dan Stone, head coach Martin Porteous, manager Doug Harkness, secretary Marisa Spagnoto and treasurer John Fitzpatrick. Recently at a Lions meeting coach Martin Porteous stated how much the group loves to play in front of spectators.
As a Lion I recently attended a game and was amazed at the speed of some of the players and the skill level. I was almost brought to tears when one of the Orangeville players hit the opposing goalie in his facemask with a quick rising shot. The Orangeville player quickly put his arm around the goalie to make sure he wasn't hurt. It was so rewarding listening to the almost sold out crowd cheering for both teams. The joy and excitement on the players' faces made this to be a very special experience as a photographer.