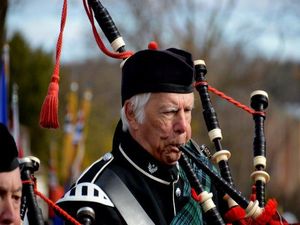 On Friday, November 11th I attended Orangeville's Remembrance Day ceremony at the local cenotaph. While driving to service I was most impressed with the steady flow of elementary and secondary students walking to Alexander Park to attend the Remembrance Day ceremony. When I taught at Grand Valley Central Public School I always walked my students to the local cenotaph because I felt it was important for them to realize the significance of the sacrifices made by our brave Canadian soldiers.
While teaching at East Garafraxa Central Public School and at Grand Valley Central Public School I encouraged my students to participate in the Legion Remembrance Day poster contest and essay contest.
Years ago I was fortunate enough to visit Beny-sur-Mer Canadian War Cemetery which is located in Normandy, France. Many of the soldiers buried there died during the "Battle of Caen" and the D-Day assault of Juno Beach. As I walked between the rows of 2048 markers I was shocked by the number of very young Canadians who died many of whom were only in their teenage years.
My blog focuses on the "Faces of Remembrance Day". I'm sure everyone who attended the November 11th Ceremony has a story to tell about someone in their family tree that served overseas. The few photos I have submitted is my way of saying thanks to the many people who took time from their busy schedules to participate in this year's service to help make it memorable to all those who were in attendance.
[metaslider id=1760]