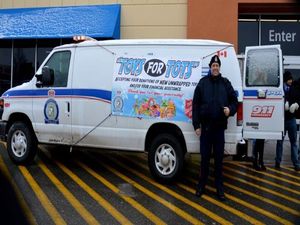 The Orangeville Police Service is proudly sponsoring their annual "Toys for Kids" and "Food Drive" during the month of December. On a rather frigid Friday night I ventured out to take photos of the police van parked out front of Walmart. At 8:00 pm the van was fully loaded with unwrapped gifts and while I was taking photos, more and more gifts were being donated.
According to Constable Scott Davis, our local Community Services and Media Relations Officer, all toy donations will be distributed locally through the Dufferin Hamper Program and various community partners. All food donations will be delivered to the Orangeville Food Bank.
Drop-off locations for unwrapped toys are as follows: Orangeville Town Hall, LCBO at Riddell Road and 40 Broadway, The Salvation Army, Shoeless Joe's, Winners, DUCA Financial Services, Royal LePage Realty on First Street, Orangeville Police Services Headquarters and the Salvation Army Thrift Store which is located on Broadway.
New for this year is the Orangeville Police Services initiative to create a "Magical Christmas Forest" Constable Davis explains that the Orangeville Police Service is challenging area emergency service partners, service clubs and businesses to help create a "Magical Christmas Forest" to support the yearly toy and food drive to assist residents of Dufferin County.
Chief Wayne Kalinski states in the media release"Our hope is that friends, family and colleagues of our various partners and members of the public will participate to help earn bragging rights for the tree with the most items under it, deeming the tree to be the most popular of the forest".
The Mullin Group would like to congratulate the Orangeville Police Services with their toys for kids program, food drive and Magical Christmas Forest. These important endeavors benefit all citizens of Dufferin County.
[metaslider id=1853]