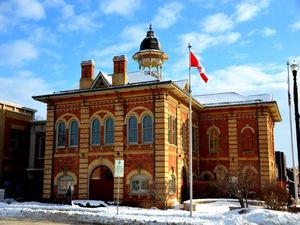 Orangeville's core comprises of many historical buildings which is part of the small town charm. The centerpiece is the Orangeville Town Hall which was constructed in 1875. One of my favourite features of the Town Hall is the Cupola that rests on top of the building.
Just east of the Town Hall is the former Graham's Tavern which was built in 1852. Numerous restaurants have called this building home that is special inside and out.
After leaving Broadway I focused my attention on Zina Street. There are many classic homes on both the north and south sides of the street. The homes were built in the late 1800's. Many of the historical homes on Zina are quite large and according to the town's historical guide, Footsteps from our Past, were erected during the economic boom following the construction of the railroad. Located on Zina stands the Dufferin County Court House, which is of equal historical importance to that of our Town Hall.
I left Zina and parked my Mini on York Street and was able to take numerous photos of the many historical houses in this location. Similar to Zina Street the houses were constructed during the late 1800's with many of them featuring new additions. To the credit of Town Council, York Street will maintain its present width when road construction begins this summer. This decision was important in order to keep the present canopy of trees in tact.
I have just touched upon a few examples of historical buildings. Streets such as Wellington, Little York, Mill, John and First have their share of beautiful historical buildings. Orangeville's blend of new and old is one reason this town is a great place to live.
[metaslider id=1988]