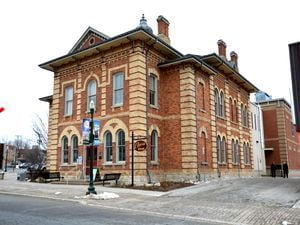 On Wednesday, April 6th Wanda and I attended the afternoon matinee of Mending Fences at Theatre Orangeville. This show is truly one of the best plays Wanda and I have attended in Orangeville. The Norm Foster play directed by our own David Nairn was both dramatic and humorous. To my surprise the fridge and stove used on the set were the same models we had in the first house we purchased thirty-seven years ago!
After the play I approached David Nairn seeking his permission to take photos of the theatre and endorse his plays in my weekly blog. In his usual bubbly manner he gave me permission to snap away and take all the liberties that I needed to capture the theatre's complete ambiance.
Historically, Theatre Orangeville was restored on the second floor of the Orangeville Town Hall in 1993. In 1977 Wanda was interviewed in this exact same room for her French teaching position by the Dufferin County Board of Education. The theatre boosts 273 seats all with perfect sightlines to the main stage.
This year Theatre Orangeville so far has featured three comedies, Jonas and Barry in the Home, Suddenly Mommy and the current play Mending Fences. The fourth and final play for this season is also a comedy titled Stag and Doe, which commences on May 5 and runs until May 22.
Theatre Orangeville also features special engagements such as The Caverners, Have Yourself a Swinging Little Country Christmas and performances by the local youth theatre groups and TOYS choir. We are so blessed to have this historical building offering a traditional theatre atmosphere for people to enjoy acclaimed plays and musicals thanks to the effort of David Nairn and his Theatre Orangeville team.
Check out Theatre Orangeville's website for season passes discounts, and coming events.
[metaslider id=3590]