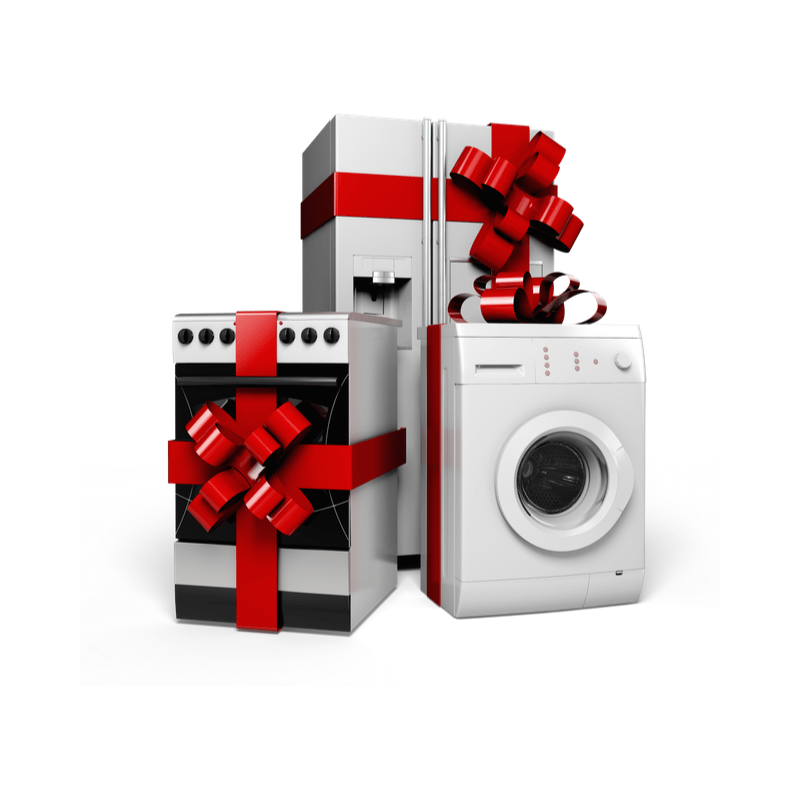 Did you know that over 30% of your monthly energy bill charges come from electrical appliances?  Many people come to terms with their monthly bills or say 30% isn't a lot.  However, if there was a way to save a significant portion of money monthly and preserve the environment, wouldn't you want to try?
As appliances become older, their efficiency decreases.  With the advancements in technology, as well as a movement from appliance manufactures, appliances have become much more energy efficient over the past 10 years.  What does energy efficient mean?  As a result of the design, energy efficient appliances are built in a way that uses as little power as possible or other renewable energy sources to complete a required task.
As a result of a variety of manufactures and products in the market, there are many things to look for when it comes to energy efficient appliances.  This can be over whelming, so below are a few factors to consider when purchasing energy efficient items.
1- Size:
It is important to choose the right size of appliance for your needs.  Many of us hear size doesn't matter… but in this case it does.  HVAC systems, for instance, are measured using BTUs (British Thermal Unit).  If you have a home with approximately 2000-2500 square feet, the home will require 34,000 BTU/hour; whereas, a home with approximately 1000-1200 square feet only requires 21,000-24,000 BTU/hour.  Having a unit that is too big will not work as efficiently as one that is the correct size for your home.
2- Design:
You wouldn't think the design of the appliance matters, but it does.  Think of refrigerators for instance.  There are many different layouts of a fridge, those with top freezers, bottom freezers and those with side-by-side doors. The placement of the freezer can have a significant impact on hydro consumption. It has been shown that refrigerators with the freezer above the fridge use significantly less hydro than a freezer with side-by-side doors and bottom freezers.  Why, you ask?  It has to do with the placement of the compressor.  Compressors are located near the bottom of the refrigerator and give off a lot of heat making it difficult to achieve and maintain ideal temperatures in bottom freezers.  Extra features can also cause an appliance to be energy deficient.  Those without built-in ice makers and water dispensers are more efficient and less likely to need repairs than those with.  Additionally, the make of the appliances can also have an effect on cost. Energy Star models can save 15% on utility costs. Thus, when selecting an appliance look into the design as well as the brand.
3- Modes:
Many newer appliances have an energy saving setting known as 'Eco' mode. This mode is designed to be "eco-friendly" as it reduces the amount of power used. This mode can be found on many appliances such as dishwashers, washing machines, kettles, etc. For example, if we look at dishwashers and washing machines majority of the energy used goes to heating the water. Specifically, in a washing machine 90% of the power goes to heat the water. When using the "Eco" mode, it reduces the temperature of the wash and it saves the amount of energy used. Sometimes these eco modes can go longer than a "normal" program; however, you still are using less energy due to the water temperature.
4- Energy Guide Label:
When purchasing an appliance, make sure to look for the Energy Guide label.  An Energy Guide Label is a bright yellow and black label required by the federal government on majority of appliances.  The label provides information such as size, model, key features, estimated yearly operating cost and electricity consumption.  On the Energy Guide Label, it can also indicate if the product is a certified ENERGY STAR® product.  If a product is an ENERGY STAR® product, then the model meets and/or exceeds the minimal federal standards.
5- Power Source:
When choosing appliances, it is important to consider the type of power source it uses.  Although there are pros and cons to each type of power source, it is important to look at which will suit your needs best.  For example, natural gas sources tend to be cheaper than electricity; however, some locations don't have natural gas sources available.  Additionally, different companies offer off-peak rates to help lower costs. For example, Orangeville Hydro offers three different rates. Their off-peak rate is 52% lower than the regular on-peak rate.  For more information regarding times and rates, visit Orangeville Hydro's website.
6- Price:
Price is another factor to take into consideration when looking for efficient appliances.  There are two prices when it comes to appliances.  The sticker price, the one you pay to purchase the appliance and the price that you will save over the years.  Although energy efficient models are generally more expensive upfront, they will save you money in the long run.
As mentioned, there are many things to consider when selecting energy efficient products for your Shelburne home and the six factors above are just a few. The important thing to do is take your time in deciding and selecting a product and see what works best for you.  A little time spent considering all your options can save you more money in the long run and also reduce your carbon footprint!
References:
https://www.bosch-home.in/experience-bosch/living-with-bosch/fresh-reads/how-eco-mode-saves-energy
https://www.energy.gov/energysaver/appliances-and-electronics/shopping-appliances