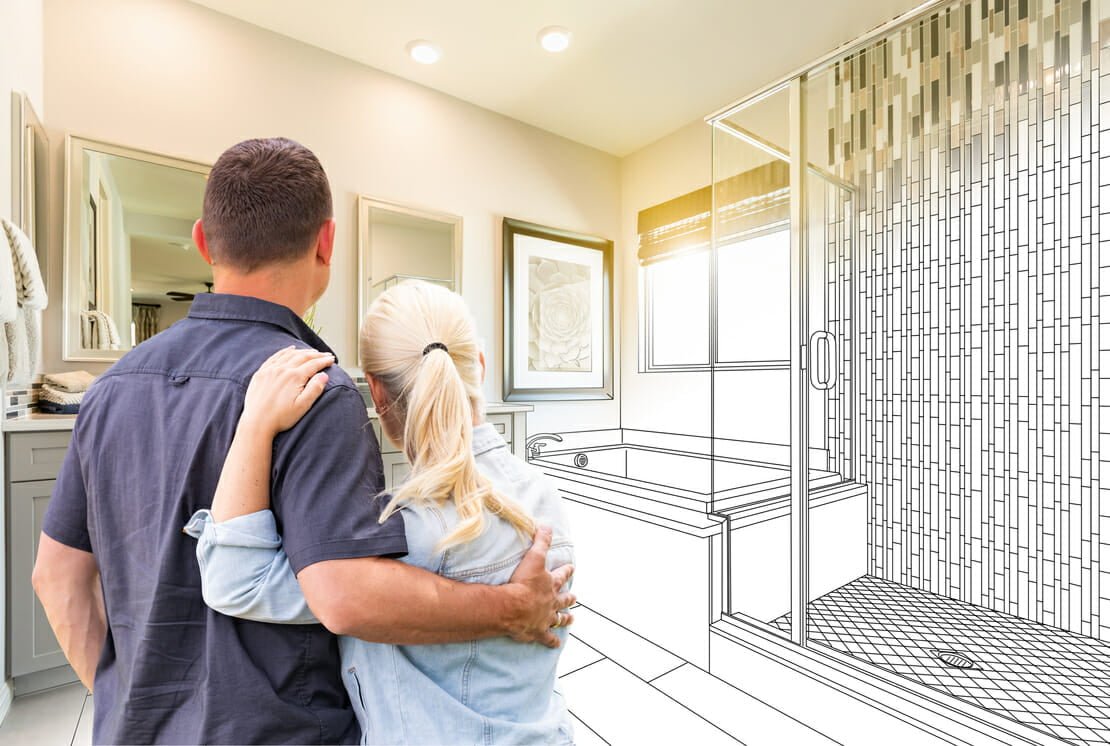 Most of us know that renovating your home's bathroom will give you a pretty good return on your investment.  According to some online research, you can expect around a 60-70% return on your investment.  Don't jump in too quickly though, there are still a lot of variables in that equation that will determine your final return on investment.  There are some obvious and not so obvious choices to be made. We don't want you making expensive mistakes and regret your decision and we don't want you making mistakes that won't give you the highest return you can make.  What are these bathroom renovation mistakes you ask?  Read on….
Let's face it, watching an episode of MTV Cribs can have you dreaming about a soaker tub with a view; but, if you live in a suburban townhouse that backs onto a row of other townhouses, this may not be the place to live that dream out.  That brings us to our first avoidable mistake…
Plan
Don't renovate without a plan.  Measure your existing space and take note of where water, drains, heating, windows and electricity are located.  If you're replacing fixtures and leaving them in the same place, the renovation will be easier; but, you should still have a plan that factor in the space, the materials and the costs.  It will save you a lot of grief and probably money too.  Be sure to incorporate new electrical for fans, lighting and outlets and factor those into your costs.  They are the behind the scenes costs that can add up quickly in addition to fixtures like tubs, toilets and vanities.
If you are revamping the entire space and relocating fixtures, a plan will be even more important.  You need to incorporate spacing and functionality into the layout.  It's easy to get caught up in how pretty or luxurious a space is but take the time to make sure it's functional.  You want to enjoy it visually, but you also want it to be useful.
Ventilation
It seems that many bathroom renovations that we see lack proper ventilation.   If your existing bathroom doesn't have a fan, we highly recommend installing one.  Some older homes will only have windows and no fans.   The idea is that the window should be opened to provide ventilation but so many people don't bother.  A fan will assist in keeping moisture from accumulating, no more peeling ceiling paint or mildew.  If you're spending a bunch of money on renovations, protect your investment!
Storage
Don't forget to incorporate storage into your new space.  Open shelving and open vanity space is nice for pretty things but let's face it, we all have stuff that we don't want out on display for visitors to see.  Pinterest is a great place to browse through beautiful bathrooms but take note, none of them have the 20 different hair products strewn across the counter or lined up on the floor of your shower like your teenage daughter does, that stuff has to go somewhere.
Budget
Again, it's so easy to get caught up in all the beautiful bathroom photos we see on our social media accounts but not all of us live with a budget of the rich and famous.  You don't have to spend a fortune on the fixtures, keep them simple and splurge on the decor items.  After all when you move, you leave the fixtures and take the pretty decor items with you.  Start with the basics and see where you land before upgrading the fixtures and breaking the bank before you even get started.  Let's face it, you can spend a few hundred dollars or a thousand dollars on a toilet, its purpose is still the same.
These are just to name a few of the bathroom renovation mistakes to avoid.  Renovations can be fun but they can also be challenging.  Follow these few tips and you are off to a great start!  If you require a professional, check out our list of preferred partners for your renovation needs.