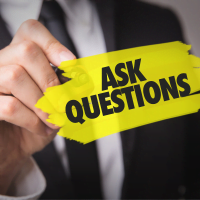 Not all Orangeville Realtors® are created equally! You are hiring someone to represent one of your biggest investments in life.  You want to make sure you are hiring a true professional and not just someone you think is a great person.  Any reputable, experienced, professional Realtor® should be able to answer these questions easily.  Here are the 7 questions to ask before hiring an Orangeville Realtor®.
How Many Homes Do You List/Sell per Year?
You may think this is a personal question kind of like asking someone how much money they make, but it is NOT! The Toronto Real Estate Board has over 70,000 real estate agents registered.  Last year in 2022, only 38,622 reported minimum 1 sale!  Here is a chart to give you a little perspective on how many homes an agent sells and what percentile they would be in.
If you were having open heart surgery, would you want the doctor that has only done one surgery last year or the one that has completed over 60 surgeries? That would mean they rank in the top 1%.  They are definitely a specialist! That also means they have the experience and knowledge to ensure you are in the best possible hands. The same holds true for hiring your Orangeville Realtor®.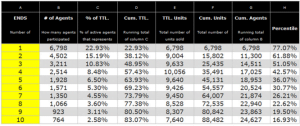 What are the Average Days on Market in Orangeville and What is YOUR Average Days on Market?
A professional Realtor® will know the stats for their trading area and they should also know their own stats.  Days on market are important for a few reasons.  Being for sale is NOT convenient.  Keeping the house clean, getting the kids and pets out for showings and having to leave the house so frequently really is not fun.  No seller has ever said "I love having strangers parade through my home and being for sale!" You want to work with an agent that can get the job done in a timely fashion in comparison to the area statistics.  Another reason you do not want to be too long on the market is that the longer a home sits, the more buyers tend to think there is something wrong with the home.  That is why accurate pricing and marketing in the first two weeks of the listing is imperative to achieve the maximum sale price and exposure.
What is the Average List/Sale Ratio for Orangeville and What is YOUR Ratio?
Again a true professional Orangeville Real Estate Agent will know the current stats for the Orangeville market.  They should also know their stats for listing to selling ratio.  You want to be hiring a person who knows how to price a property accurately but also knows how to negotiate on your part to get you the most.
Do You Sell Your Own Orangeville Listings?
Some local Orangeville Realtors® like to sell their own listings.  There is nothing legally wrong with this practise.  It is called Multiple Representation.  It would be called Multiple Representation even if it was another Realtor® from the same Brokerage that brought the buyer.  You have to ask yourself how you feel about this practise? Our team feels a little different about this practise.  How can I represent you as the Seller and want to get you the most money and most desirable terms but also represent the Buyer and have them pay the least amount of money and most desirable terms for them? On our team, we feel this puts us in a predicament.  This is how we deal with this.  Your lead agent will always be your primary agent.  They will NEVER represent the Buyer for your Orangeville home.  If a prospective buyer is inquiring about the home, it will be another team member that would work with them.  It is still considered Multiple Representation, but we feel it gives just enough separation that everyone is getting their own agent.  Some agents will say "I don't work on a team, so this is not possible."  That is not true.  They could have a colleague in their brokerage that they could operate in this manner.  The benefit of having a team working on your behalf is another whole blog in itself!
Why Choose Your Team and Your Brokerage?
This is where you want to know how they operate? Are you going to have the same person from start to finish? Are you going to be passed around like a hot potato? Who is going to do what and why a team? Equally as important as choosing your Orangeville Realtor® is choosing the Brokerage that represents you.  Don't get fooled by smooth talking, over promising and under delivering agents.  Look at the proof.  Market statistics do not lie.  You want to have a professional company that has a proven track record and a reputation of being a reputable brand.  Ask if they have a brick and mortar location? Ask if they have a live body to answer calls and inquiries? The number of times I as an agent have had difficulty booking a showing with some of these "online" brokerages is insane.  A seller does not realize how difficult some companies make it to get appointments booked.  As a seller, you do not want anything to hinder the process of people seeing your home.  Do they have support staff like an accounting department? If you sell your home and there is deposit money owing to you, you would not be impressed if you had to wait an extended period of time for money to come back to you because they do not have an accounting department.  Ask questions up front!
Do You Have Google Reviews or References I Can Call?
When someone takes the time to share their experience with hiring an Orangeville Realtor® on line, they want the world to know! These are very powerful recommendations from clients, other Realtors® and the community on what you can expect by hiring this real estate professional.  You can also ask to speak with current clients for feedback.  Do your homework! Many times we have heard from people that they liked their Orangeville Realtor® at the beginning and once the papers were signed, they never heard from them again.
What Sets You Apart From Other Orangeville Realtors®?
This is probably the most important question.  Listen how they answer it.  Do they do the same as everyone else? Everyone (should at a minimum) take professional photos, have a home staged, market the property, but what exactly do they do?  Photography should include HD videography (not a slide show).  Drone photos if the property would dictate it.  What about floor plans? What about Matterport or Iguide?  Staging should include actually bringing décor items into the home and augmenting what you already have not just throwing a blanket across the end of a bed.  The art of staging is so imperative now because buyers are looking on mobile devices and those little pictures have to pop to make the buyer look closer at your listing.  The staging is the icing on the cake!  But what about the marketing plan? What sites will your home be on? How much will be spent on advertising your home and where? Will the agent be actually advertising your home or themselves?  What about their on-line presence? Do they have a top ranking website? What extra services can you expect? Cleaning? Junk removal? Use of a trailer? Preferred Pricing with local businesses?  What about Open Houses and Realtor® tours?
We feel it is very important that you ask questions.  If you notice,  "what do your charge?" was not one of the questions that should determine who you hire.  We all know that there is always someone who will do it for less, but at what expense?  Make sure you look at all the factors and not just cost.  "The bitterness of poor quality remains long after the sweetness of low price is forgotten" – Benjamin Franklin
Our goal when selling your home is to provide the ultimate real estate experience and to exceed all of your expectations! We welcome the opportunity to interview with you if you are considering selling your Orangeville Home.  We have a proven system for Getting You On the Move!