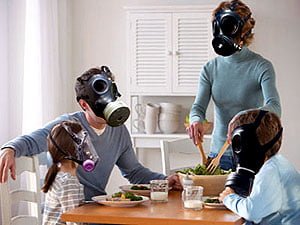 When buyers say they are looking for a home with atmosphere, they are using this phrase in a positive manner. As sellers of Dufferin County begin to consider the prospect of putting a house on the MLS® market, the concept of atmosphere can take on an entirely new meaning. The air quality within a Dufferin County home for sale can be impacted by a number of factors, all of which should be addressed before the home is shown.
Basic Health and Safety
Several of the most common things that can affect interior air quality are also points that can be an issue in terms of safety for the new buyers.
Mold or mildew
Furnace problems
Dust
Mold and mildew can be big problems if they are left unaddressed. While some post and beam style homes will succumb to a certain amount of mold in the wood, this can contribute more greatly to an unpleasant smell in the home rather than a true health issue. Mildew in bathrooms and basements may be similar, and these can generally be addressed with a professional cleaning. However, some types of mold and fungus are toxic and can make the home unlivable. For this reason, it can be necessary to have a health inspector verify what type of clean-up is needed before the house is shown.
Depending upon the type of heating system that is in place, this can also influence the air quality of a home. Oil systems should be well checked for leaks, and the proper filtration should be in place for all vents. Often, good air filters in the heating and cooling will also eliminate some of the issues that dust can cause, although cleaning and airing out the home before it is shown is always recommended.
Problems with Familiarity
Although the following factors are not as much of an impact on health and safety, they can still lead prospective buyers to have concerns about the air quality in the home.
Wood burning stoves
Smoking in the home
Pet smells
Degrading wall paint
Each of these will leave a distinct smell in the home, and can deter buyers from considering the property further. It may be necessary for Dufferin County sellers to invest in a thorough airing and professional cleaning of the home if any of these points are in question, especially as attempts to simply mask the smell can lead to further concerns about the indoor air quality. Ideally, certification from the health inspector along with these cleaning efforts can not only improve the air quality on your Dufferin County home, but can also reassure the buyer as to safety.