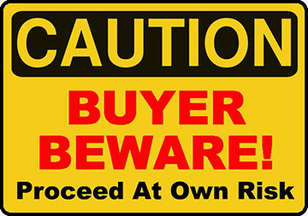 It seems like everyone is watching HGTV or Love It or List It or some other home renovation show on TV.  Remember folks, this is TV, not all you see is reality.  I am constantly amazed at how buyers view homes.  If a house shows pretty like those homes on television, people quickly want to put forth offers and buy it.  We are noticing this of most buyers regardless of age.  The young, first time buyers are used to living in modest homes and expect their homes to be equivalent to what they grew up in.  The baby boomers are of the mind they have done all these renovations in the past as they moved up from home to home and just want to pay the money and move into a ready-done home.  But buyers need to beware, all that glitters is not gold!
There is a saying, "Putting lipstick on a Pig".  I have seen a great deal of this in the last year or so in the Orangeville real estate market.  There are many investors buying homes to fix and flip.  The problem is as a buyer, you are not aware of the quality of workmanship.  As experienced realtors, we notice things and point out some of the short comings of these fix'n'flip homes but buyers can be so blinded by the pretty décor and lighting that they don't really notice the bigger picture.  PLEASE listen to your trusted Realtor®.  When emotions are high, intelligence can be low.  As a buyer you are excited of these pretty homes decorated to the nines, but what is this house going to look like when you move your furniture in?  What is the size of the home? What about the yard? Location?  How will these renovations stand up? Did they use quality materials or did they basically put lipstick on a pig?
Location! Location!
There are many factors to consider when buying a home.  For as long as time itself, you can't beat location!  If you have a dog house in a fantastic location, it will always keep its value as compared to a palace in the ghetto.  If you are not familiar with a town, ask your real estate professional which areas have always been the sought after neighborhoods.  Things like backing onto a ravine or greenspace are more valuable than backing onto a highway or railway.  Certain streets in towns sometimes have been more prestigious and sought after.  Location of your home matters for your enjoyment and for resale.
Size Matters!
The size of the lot is more important than the size of the home.  You can always buy a small home and add an addition to make the size of the dwelling suitable on a decent lot, but you may not be able to do that if the size of the lot does allow for added square footage.  Towns have formulas for how much building coverage (square footage) can cover the lot area. Maybe a home does not have a garage, but everything else in the home would be perfect, if your lot size is adequate, you may be able to add the garage at a later date and have the perfect home.  Sometimes you need to think outside the box.
Big Ticket Items
Women can completely understand this – undergarments can cost huge dollars and generally no one sees them! Same with big ticket items like furnace, roof, windows, septic, well etc.  These components are necessary in many homes but people do not generally notice them.  When company comes to visit, they do not say "let's get a look at that snazzy 40 year shingle roof!" These are things that are required and just need to do their job!  So when you are buying a home, it is definitely a bonus if these items are updated or relatively new.  Again you can always change paint or update lighting for relatively little money, but it's not as easy to have to come up with the cash when the roof starts leaking and the furnace dies in the middle of winter.
What I really want people to recognize is that you need to take the rose colored glasses off when looking for a home.  Don't be fooled by the fancy décor and pretty lighting.  Let's look at the facts about the home.  Sometimes you may find the perfect home that has had all the proper updates done and suits your needs perfectly, if so, act fast as you probably are not the only buyer looking for this.  This may be the time not to nickel and dime on purchase price if it checks all the boxes on your needs and wants list.  Again, having a trusted Realtor ® working with you will help you take the emotion out of buying and give you solid advice.