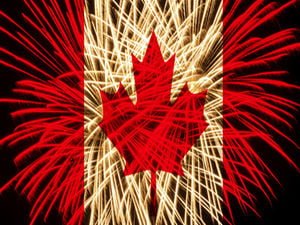 Canadians across the country will be celebrating Canada's 149th birthday this Friday. Are you looking for something to do this Canada Day? If so, here are a few events you may want to attend. Right here in Orangeville, the festivities will begin at 12 pm at Alder Street Recreation Centre. The family fun begins with the opening ceremony and cake cutting, then free family swims between 1-2 pm and 3-4 pm, face painting, inflatable activities and the President's Choice Super Dogs shows at 12:30, 2 and 3:30 pm. Can't forget the fireworks over Island Lake at 10 pm!
Shelburne has their Canada Day celebrations lined up at the Fiddle Park beginning at 4pm till dusk. The band will begin playing at 4:30pm till 9pm. The beer garden runs from 4:30pm to 10pm. There will be plenty of children's activities to keep the kids busy. The kitchenette will be open from 4-10pm serving food and drinks. Fireworks will wrap up the event at 10pm.
At the McMillan Park in Erin, there will be free live music and plenty of entertainment all day. The kids can enjoy over 30 free children's activities including a bouncy castle and crafts corner. The beer garden will be open from 11am-9pm, and food stands by Bistro Riviere will also be present.
Whether you decide to attend these events or stay home and relax this Friday, we wish you and your family a safe and fun Canada Day!