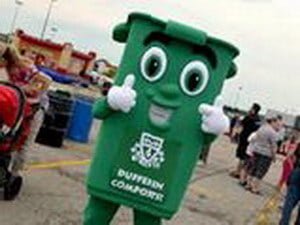 Waste services in Dufferin County is more than taking out the trash once a week. There are many programs out there designed to help us reduce the amount of waste we produce, reuse what's still good, recycle valuable materials, and safely dispose of what's left over.
Currently, waste management responsibilities within the County of Dufferin are divided between the County and the eight local municipalities which include the Townships of Amaranth, East Garafraxa, East Luther Grand Valley, Melancthon and Mulmur and the Towns of Mono, Orangeville and Shelburne.
On June 1st, 2013, the County will launch a new waste management system. For the first time, Dufferin County will have authority to manage not only organics, hazardous and electronic wastes, but also garbage, recycling, and all the rest discarded by households. Residents in all local municipalities will enjoy the same curbside service, whether that's the blue box, the green bin, or the garbage.
One of the most obvious changes will be using only transparent bags. As part of the new program, coloruless, transparent bags will be required for all garbage set out for collection. This will allow collection staff to see if the contents of the bag are acceptable waste items without having to open the bag (i.e. no recycling or compostable wastes). Clear bags also allow you to see what your waste disposal habits are and possible areas you can improve. Four of the eight local municipalities of Dufferin County already have clear garbage bag programs, including Amaranth, Grand Valley, Melancthon and Mulmur.
If you are buying new garbage bags keep in mind that black or opaque bags will not be accepted after May 31, 2013
You can keep informed about the upcoming changes and other waste management information visit the Dufferin County Web Site.