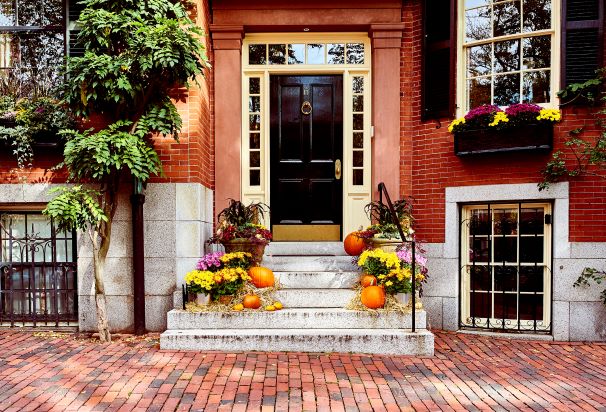 Contrary to what most people think fall is a good time to sell your Orangeville home.  Fall brings so many beautiful colours and backdrops to showcase your home.  School is back, routines have resumed and buyers are ready to focus on their home search again.  If you are thinking of taking advantage of the fall market, remember curb appeal and home maintenance inside and out are still very important.
Yard Maintenance and Curb Appeal
Here in Dufferin County we never know when our weather will change.  Yard maintenance, whether it's cutting grass or weeding the gardens, it is important to show pride of ownership of your home.  Consider adding fall flowers to your garden or even just a few potted plants and a little fall décor will help get potential buyers to want to see past your front door.  When the outside of the home is attractive, it brings interest to the rest of the home.  You only have one chance to make a good first impression.
Debris
With fall weather it brings rain, mud and debris off the trees.  Having a mat just inside of all entrances can stop all that mess from being spread all over your floors during showings.  Clear any build up or debris from gutters and down spouts to ensure proper drainage will help prevent roof damage, flooding or possible cracks in the foundation.
Walkways, Stairs and Handrails
Walkways, stairs and handrails should be in good repair before having buyers visit your home.  Tripping hazards caused by walkway pavers shifting or deck boards lifting should be repaired.  Handrails should be secured and possibly sanded if they are wood to prevent slivers.  Stock up on ice melt and make sure your shovel is accessible in the event snow comes a little early.
Cleaning Inside and Out
The inside appeal and maintenance of your home is equally important. The fall is a great time to clean your windows and screens.  Nothing smells nicer than fresh air, so open those windows.  This is also a great time to remove any window air conditioning units and to cover up the outdoor units.  With the weather being a little more bearable, pulling out your appliances and cleaning behind and under them helps to maintain their longevity.  Cleaning inside your cupboards and appliances is also a great idea.   Buyers want to see inside any areas that are included with the home.  This includes closets with all the bulky fall jackets, shoes and clothing.  Make sure they are tidy and the doors can shut easily.  One more item to add to your list is window coverings.  Now is also a good time to take down drapes and blinds to clean them.
Curb appeal and regular home maintenance are a couple of thing to keep in mind if you are thinking of taking advantage of the fall market.  Adding flower arrangements or plants around the home, bringing the beauty from outside in is one way to make your home feel welcoming inside and out.  Having potential buyers walk into an attractive, clean home is the best way to help buyers feel like this is where there would like to call home.  It will also help you to receive the best value for your home.