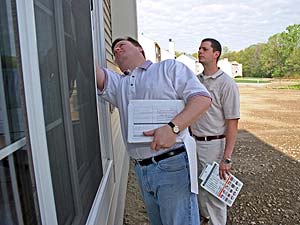 When spring appears in the Dufferin County Area and the rains begin, the first thing that Dufferin County REALTORS® discover when listing a home for sale in Dufferin, is the dreaded sight of Mold and Mildew Growth. It is often left over mold from the year before that simply became worse as spring and summer rains began.
Dangers of Mold
Mold is dangerous to have in your home and can present serious health issues. People experience — allergic reactions, problems with respiratory systems, upset stomachs and over-all body pain. Mold can spread quickly in moist areas; especially if they are hidden away and dark.
Bathrooms and Kitchen Mold
Bathrooms and kitchens are common areas where mold and bacteria are found. If water seeps into walls or baseboards, the mold often spreads faster than you realize. The sooner you have it look at by a professional, the more money you will save.
How to Fix Mold in Your Dufferin Home
The first thing to do is identify areas in the home that have mold. Dufferin County Homeowners should check — walls, inside baseboards and underneath carpeting.
Finding the source and fixing the problem will reduce the molds ability to continue to grow. The more humid it is inside your Dufferin home, the faster the mold grows. One option is to hire a contractor or home inspector from within Dufferin County that has worked with real estate agents. They will — survey your Dufferin home, advise where the mold is, how it entered into the home and how to clean it up (this can easily be done by yourself, thereby saving you money).
Do It Yourself Mold Removal
If you plan to tackle the problem yourself, be sure to wear — protective masks, eye protection and gloves. It is imperative not to come in contact with mold or spores. The first step — clean the area with a wet cloth to reduce mold spores in the air. For the environmentally friendly use an organic soap, that is non-toxic and start to scrub thoroughly until the mold is removed. When completed, fix the problem that allowed the water to enter.
What to Throw Out
If the material that contains the mold is porous, such as — carpeting, drywall or ceiling tiles. Remove the material, fix the area that allowed moisture to enter and replace the offending materials.
If you plan to put your home on the Dufferin Real Estate Market it will be subjected to a house inspection, and these inspectors look for moldy areas you may not have considered.
These include appliances such as — refrigerators, stoves, dishwashers and hot-water heaters.
These appliances use insulation and can harbor mold spores. You now need expert advice on whether or not to replace the insulation or the appliance.
After fixing the problem, continue to check areas on a monthly basis. When the rainy months end, and there are no further sign of mold, then you may be safe. In the future, check areas periodically to ensure no new problems arise.