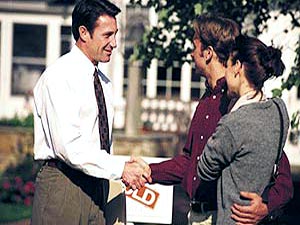 Working with the right Orangeville real estate agent can make or break how a prospective buyer feels about your property. Now that it is time to put your house on the Orangeville real estate Market, you want to find the right REALTOR® to market it right. How do you find someone you can trust who will make you feel confident they can sell your home quickly for the best price possible? Here are six key questions you should ask.
Are they licensed?
This one is the easy one. You should be working with a member of the Canadian Real Estate Association (CREA). It is also important that you check whether they have any complaints on record about their practices. You can check with the local Ontario Real Estate Association (OREA) as well.
Are they successful?
A successful real estate agent is more than the number of sales they have completed. You should also find out the average difference between listing and selling prices on their most recent sales. If an agent is closing deals at far below the original asking price consistently, that might be a red flag.
How busy are they?
Make sure you ask in advance how often the agent will contact you and how they will keep you informed of potential buyers. If you're going to be working with one of their associates at times, you should know.
How familiar are they with your Neighbourhood?
A real estate agent is not just marketing your home in Orangeville – they're marketing what the town of Orangeville is all about. If they have closed nearby sales before, they are familiar with the selling points of the neighbourhood as well as the right price range for properties similar to yours.
How much commission do they expect?
There is no set amount of commission charged, but a commonl listing commission is about 5 percent of the sale price. If you find one that offers their services for a low percentage, you should know why. How much do they plan on spending to market your home? Do they expect you to do a large share of the marketing yourself?
Do they have a plan?
The Orangeville real estate agent should be able to tell you exactly which marketing techniques they would use for your home and how they plan to promote the listing. They should come to the table with ideas from the very beginning. Now that you have a clearer idea of the basics, use the internet to find all the trusted real estate agent in the Orangeville area — then pick up the phone and invite them all including the Homeownership Guides Team to see who can do the best for your home.