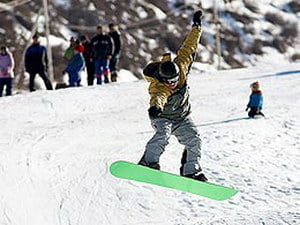 From the annual Orangeville Fair to the Art Walk of Tree Sculptures or the many golf courses in and around the town. Orangeville Ontario has a lot to offer and attract tourists during the warmer summer months.
But as the winter months rolls in, the fun doesn't have to end. Orangeville has an array of winter activities to take in; including snowmobiling, cross country skiing, snowboarding and downhill skiing, most of these events take place at the Hockley Valley Ski Resort which also provides lodging for tourists.
The Hockley Valley Resort is located less than an hour's drive from Toronto which is why it is a favourite skiing destination.
The resort also serves as a conference center and a golf course as well as being a hotel and retreat for skiers. Additionally, there are 14 ski trails available at Hockley Valley; 20% are rated as easy, 30% are rated as intermediate and 40% are rated as expert (the most difficult trails).
As you can see, Orangeville Ontario really is a Four Seasons location with plenty to do for everyone, 12 months out of the year.