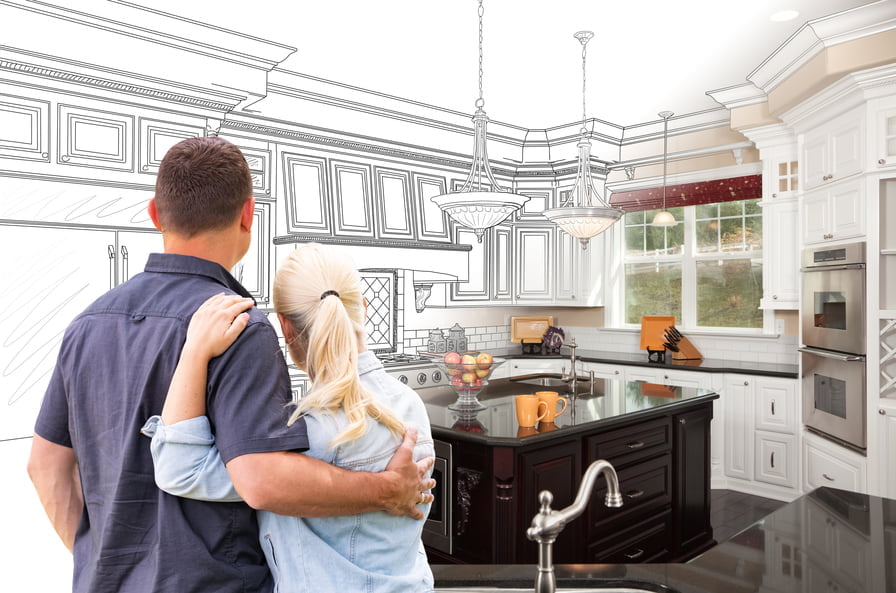 It seems in the last year, there have been a lot of Orangeville home renovations happening one that has become a conversation in my house is the kitchen. When it comes to renos, ask yourself this question. Are you doing the renovation for you and your family or to be appealing when you sell? This will help you decide what direction you want to go in when it comes to style, design and materials used. A tastefully renovated kitchen can bring you 70% to 100% return when selling your home. The kitchen seems to be the entertaining space of a lot of homes so why not make it reflect who you are and how it's used?  So let's get to it, Home Renovation – Kitchen Edition!
The work flow is very important in the kitchen, for those very serious about cooking and baking that is. Designers suggest build your kitchen so the main components, fridge, stove/oven, and sink are efficiently located within a good working distance of each other.  This is known as the working triangle. This is so you have all the elements within reach. It is never a bad idea to get the advice from a professional even if you plan on doing the renovations and improvements yourself. There are so many things to consider that we might not think of without the help from someone who does this for a living.
Cabinetry
There are so many styles and colours of cabinets to choose from. You can really make your kitchen stand out. The kitchen cabinets hold all of our dishes, appliances, utensils and other kitchen gadgets. Making sure you have the right configuration is key. Not having cabinets that seem to have an endless side that a lot of homes seem to have would be top of my list. I have a cabinet that fits a lot but the key to store the items you hardly use at the back because you have to crawl into it to see what's there. You also want to make sure you have the space to hold your pots and lids. There are great drawers designed for exactly that. For some, a spice cupboard is important so making sure that is close to your stove might be a good idea.
If you do an island, make sure that the island doesn't affect the flow of your work triangle. The placement and size are two things that need to be figured out.  What will the main purpose of the island be? Will you use it to gather around?  You will need to make it so stools or chairs can be tucked around.  Do you want a sink or stovetop in your island? Do you want a beer or wine fridge, microwave, cupboards to hold your trash, recycle and compost bins? An island should be an addition to the functionality of your kitchen.
Countertops
Do you have that one kitchen decor piece you have to have on display? Making sure you are allowing for all the space you need for it to be a functional space is most important.  Making sure you pick the right material for your countertop, not trying a new material that really hasn't been tested in a kitchen environment may not be a good idea. Do you want a busy pattern, natural stone or man-made material? Asking someone that specializes in countertops is always a good idea. They will be able to help you pick the right material.
Counter space is important. You want to make sure that you have given yourself enough prep space on your counters so you aren't going to the kitchen table to chop your food and carrying it to the stove. Think of what you want to get out of your counter space. Are you a big coffee drinker? Maybe you need enough room to have your coffee essentials on the counter at all times.
Then there's the backsplash.  Even if you are just replacing your countertops, adding the right backsplash can change the look completely. Not to mention if it's the right tile so clean up from a cooking disaster can be much easier. The backsplash can be used to add a splash of colour and texture much like picking a wall paper for a feature wall in the house.
Appliances
When it comes to picking your appliances make sure you do your research and pick the ones you want before you begin planning your renos. If you are just updating, you need to make sure that particular size will fit in the existing space. To do a complete remodel you need to know what appliances you are purchasing to build the cupboards and counters around them. You can google the appliance you're considering, but asking the people around you what they have and what experience they have with their current or gas appliances will help give you an idea of what you are looking for. With the new stainless steel fingerprints are a thing of the past, or do you want the new black or white steel? Do you want water and ice on the outside of the door or the inside? Freezer, do you want it on the top, bottom, or side? Stoves, do you want the controls on the front or back? Maybe you want to have a gas stove installed during the reno. Another option to think about is double ovens, convection or the air fryer option. One appliance to really think about is your dishwasher. If you have an open concept, the last thing you want to have is a loud dishwasher. Spending a little extra on a line that is made to be quiet will be worth the investment. Your appliances are what make your kitchen work for you.  They are also kind of like the jewelry of the kitchen along with your handles and pulls on the cupboards.
Lighting
Then there's lighting. You need lights to light up the whole kitchen but not too bright.  You need an accent light or two if you have an island and you need focused lighting over places like the stove or sink. There are so many options when it comes to your style now that you can find something that matches each other and your vision as well.
I hope this all helps a little. I know as I wrote this it has made me start to reconsider whether I want to reface the cupboards, and keep those never ending ones or if I should consider giving my kitchen a whole new look.  The kitchen is one of the most used rooms of our homes; whether you cook or not it seems to be the hub of all entertaining. Whatever you decide in your kitchen reno, I hope friends and family gather there, great food is prepared there, and memories are made.  Good luck!