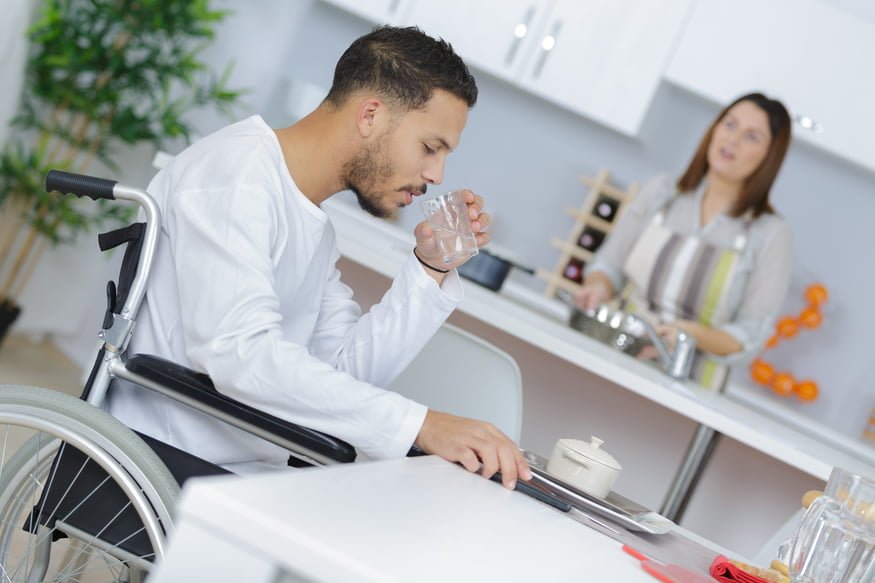 We all have a family member or family friend that would like to stay at home for as long as they can before, if ever, moving into a senior residence. With all the services that are available now like PSW, Occupational Therapy, Cleaning Companies, Food, Deliveries, Landscaping Companies, it makes it so much easier for seniors to stay home.  Another option is to downsize from their current Orangeville home to a smaller bungalow or condo or even moving in with family.  Either way making sure their home is accessible so they can function independently with ease is important.
Accessible Entrance and Doorways
One of the first places to start would be the entrance and doorways in the home.  Access to doorways with ramps and thresholds should be seamless throughout the home.  Doorways should be wide enough to accommodate a walker or wheelchair if they become needed or already used for mobility.  Having a contractor widen the doorways might be something you need to consider when altering the structure of a home.  When widening a doorway, consider replacing the doors with pocket doors where it allows.  Pocket doors can be a little easier to open and close for anyone using a walker or cane.
Flooring
Next would be having consistent and seamless flooring throughout the home.   Choose a material that is softer like vinyl or cork in case of falls and is easy to clean.  Non-slip flooring in areas that may be subject to water such as bathrooms and kitchens is also something to take into consideration.  Should the home have stairs, consider applying traction tape to prevent slip and falls.  Even adding railings on both sides of the staircase or an automatic chairlift are features that can provide extra stability to seniors that require it.  Chairlifts can be easily installed and removed and now take up less space when not being used.
Accessible Kitchen
The kitchen is another area that can be challenging for seniors with walkers or wheelchairs.  Adjusting the level of the counter and sink allows them to access both at a standing and seated level.  To allow for easy accessibility, appliances such as microwaves should be placed on microwave stands versus up over stoves or mounted above the counter.  Changing hinges and drawer slides to make sure they open and close easily as well changing handles for easier grip are inexpensive ways to make the space more user friendly.
Accessible Bathrooms
Safety in the bathroom is always a big concern. Changing the tub/shower enclosure into a standup shower or the having the tub with the walk-in door added are great options. Both of those can be costly.  If that is not an option right away, changing the flooring to a nonslip material, adding traction or nonslip strips to the bottom of the tub and handles/bars to assist with getting in and out will help make it safer.  Another great idea to give them the chance to shower with independence is dding a chair in the tub or shower enclosure along with a hand held shower head.  Another way to add ease to their daily routine is having a chair height toilet with a wall handle or changing out the seat for one with handles attached.
Laundry
If laundry is located in the lower level of the home, relocating it to the main floor would eliminate carrying laundry up and down the stairs.  If it is not possible to relocate, consider adding a laundry shoot if the home allows for it to make daily tasks a little more manageable.
Common Rooms
Now that we've tackle the most challenging areas of the home, let's move on to the common areas.  Let's start with the living room.  One may not think that this space could cause issues for those with mobility issues, but they can.  One may have difficulty trying to get up and going again once seated.  Try adding leg risers to chairs and sofas or evening adding an arm chair that rises up to help them get to a standing position.  In the bedroom, lower the closet bar and make sure dressers have easy opening drawers.  Installing bars to help get in and out of bed are also something to consider.  A Hoyer lift to help rise from a lying position in bed is another device available.
There are a couple things that can be done to make the home more accessible in the case of a 2 storey home.  First, change an office or dining room into a main floor bedroom will allow seniors to remain in the home without the worry of climbing stairs.  Secondly, in order to keep everything all on one level, add a standup shower to an existing main floor bathroom or create an ensuite bath.
Technology
One last thing to consider is installing an alarm system.  They don't only help protect a home it can also assist in the case of a fall.  With all the smart home devices now available, adding a Google Home/Alexa or smart doorbell allows them to see who is at the door without getting up.  Motion sensor lighting in hallways for late night washroom trips is a great way to make life a little easier and a lot safer.  For those who are open to today's technology, getting them a cell phone and even a GPS tracking watch in the event that dementia or Alzheimer's become an issue.
If you have a senior family member or family friend that wants to remain in their home, the key is making everything accessible.  From the entrance and doorways to furniture placement and flooring, it is important that you look at everything and make the necessary changes to keep them in their home.  However, if they are looking to downsize, we would be more than happy to help get them on the move!