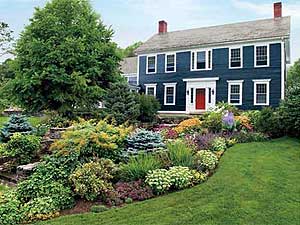 When thinking of spring and creating a visually satisfying appearance for your Orangeville home that will offer much appreciated curb appeal, the property surrounding your dwelling will be the setting that offers you the most creative license when designing a look for an existing home. Landscaping with a well-manicured and weed less lawn of thick, shortly cropped grass complimented by well-placed beds of flowers and shrubs is the standard for a magazine quality showcase home. With some planning and good garden tools, you can make your property look just as good as those you see in the pages of magazines.
Green is a beautiful color, but think of adding some shades of grey and silver to your landscaping efforts. Combined with flowers that bloom at different times throughout the year, your garden will dazzle with color while blending with subdued shades of carefully selected shrubs. There is a wide variety of grey leafed plants from perennials and herbs to the more common shrubs that are often used as edging along a garden path. One of the first things you should consider is using plants that will thrive and survive in a cold Canadian climate.
Your local gardening centre will be able to provide you with the information you need. They will inform you on plants that will grow nicely in your area and steer you away from the ones better left to a more temperate climate.
Try selecting a style of grey foliage that will blend into your existing landscaping to create areas of muted tones that will contrast to the greener leaves of other shrubs and plants. A grey leafed plant should enhance the color of a garden, not overwhelm it and become the dominant shade. Before you plant, do your homework and find out if a shrub will bloom with small flowers and if they bloom in the spring, mid-summer, or Fall. If you plan it right, you can have a garden that blooms throughout the season with splashes of color that create a display that is always evolving.
Consider that your garden is always there, even at night. A popular way of enhancing a garden with gray foliage is to consider a moon garden. A moon garden comes alive after dusk, especially under a full moon when the grey and silver leaves reflect the moon's ray and will create a mystical place in your yard that provides a special place during night-time hours. Visit your garden centre and see what they have to offer then sit down and make a few sketches. This can help a lot when designing a new addition to an existing garden space on your property.
By planning your garden and adding grey and silver areas to your existing foliage, you can create a professionally designed look to your Orangeville home.