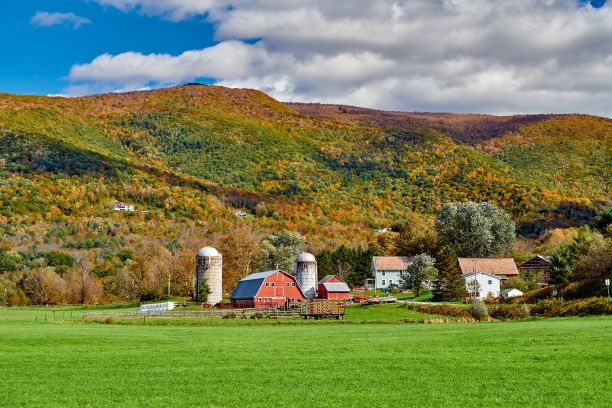 Have you ever dreamed of living in the country?  Wanting more room to roam, space to have some toys, maybe some chickens or goats in the yard?  It sounds wonderful.  We at the Mullin Group want to ensure you are aware of the major differences between country and city living before you take the plunge.
Here in Orangeville, there are a few neighbourhoods that use electric baseboard heating.  For the most part we rely on natural gas to heat our homes.  We pay our bill knowing that every month the gas will be supplied through the supplied lines.  In the country it's a little different, depending on which heat source the house relies on.  Oil and propane are quite common in some Dufferin County country homes.  Sometimes we even encounter homes heated by wood or geothermal.  Oil and propane need to be delivered on a regular basis.  Wood needs to be stored and geothermal relies on the earth's temperature.  Geothermal is not as common but is definitely something that you would want to investigate in advance.
Another major difference you'll encounter living in the country is water and sewer.  In Orangeville and other towns we are connected to water and sewer.  Country homes are on wells for water and connected to a septic system instead of sewers.  In town we rely on public works to ensure our drinking water is safe for consumption. Having a well requires homeowners to monitor their own water quality.  It's recommended that well water be tested at least twice a year.  It's easy to do.  Just pick up a water test kit from our local Public Health unit located at 180 Broadway and follow the instructions.  It's a free service.
When living in the country you have to be mindful of surface water from agriculture run off, nearby streams and of course from your own septic system.  Unlike living in town, you'll have to monitor and maintain your septic system.  The size of your family and the capacity of your septic system will determine how frequently your system needs to be pumped out.  On average, a septic will need pumping approximately once every 5 years and will cost you a few hundred dollars to do.
The open fields and space are what most long for when moving to the country.  But, there are few things to keep in mind.  Kids will most likely be bused to school.  You may be travelling on dirt roads and you may encounter smells and machinery from nearby agricultural operations.  In some areas of Dufferin County, you may also encounter wind turbines.  Some people love them, some don't, be sure you do your research in advance.
If your dream is to have a hobby farm or even just a few chickens, be sure to inquire with the municipality/township in advance as to animal units.  Each municipality/township has different guidelines.  It is important to establish your wants in advance of making an offer on a property.
Let's be honest, moving to the country is something many of us dream about.  We would love to help get you on the move; but, we want to ensure you know all of the differences and ensure that it's the right move for you and your family.  When you're ready, we'll be here to assist you every step of the way!