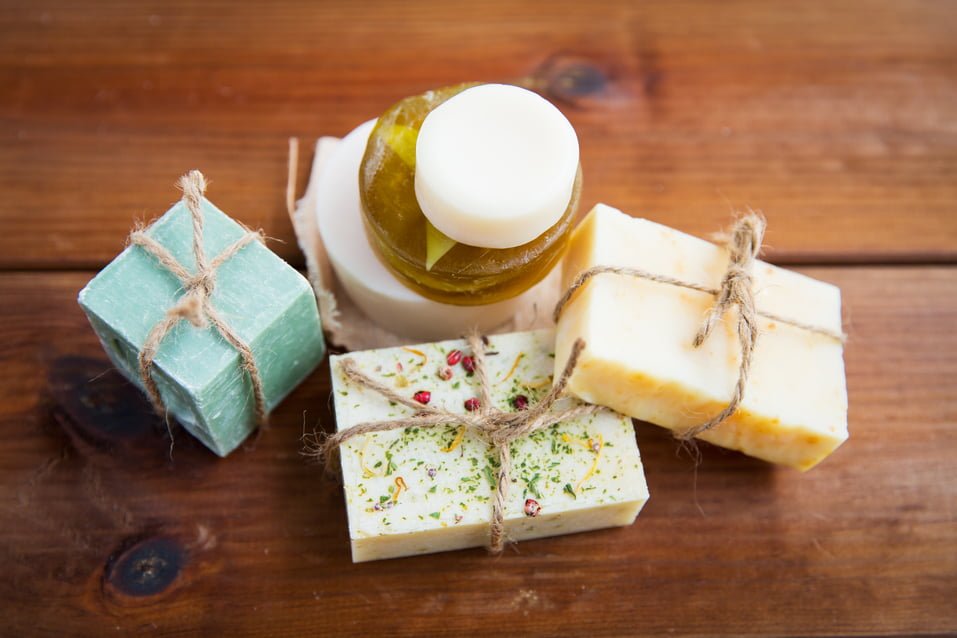 We are fortunate to have so many wonderful small businesses in Orangeville, unique to us, mom and pop shops.  Shops like Moguls in Mocean, Pear Home, Blumen On Broadway, Healing Moon, Route 145 along with many others are just to name a few.  Many of them are in the downtown core and can be enjoyed on an afternoon stroll down Broadway.  However, there are some local hidden gems that are tucked away throughout Orangeville.  There's a little gem located across town in a commercial plaza at Unit 5, 450 Richardson Road, Bridlewood Soaps.  They recently re-opened and like all of the other independently owned shops, would love for us to shop local.
I believe I first stumbled across them at a Christmas craft show in Orangeville a few years back.
Bridlewood Soaps is a family run shop that started in 2013 when the owner Jen, realized that it was difficult to find truly natural skin care products.  She started doing some research, then started making products for friends and family and before long, had started a business.
If you haven't been, I'd highly recommend you pay them a visit.  The store smells wonderful! It's beautiful and inviting and the selection of products is extensive.  They carry soap, skin care products for men and women, baby products, household products, oils, lotions and beautifully crafted accessories.
Their soaps are lovely and last much longer than a traditional bar of soap.  Their products are made with plant oils and have a high glycerin content which makes them much better for the environment.  They don't contain any of the bad stuff (detergents, phosphates or sulphates) and…they are not tested on animals.  There are dozens of scents, you're sure to find a couple of favourites.  There is normally a display of 'ugly ends' on the checkout counter which are smaller, odd shaped pieces offering a variety of scents in a bundle, giving you the opportunity to try out something different.
They offer a large skin care line ranging from oils, face masks, toners, body whips, body scrubs, lotion bars (AMAZING!!) and lip tins too.
Their household line contains essential oils, laundry detergent, and room sprays and their baby line is simply beautiful.
There are some lovely accessories including dryer balls, soap dishes, sea sponges and clay oil/wax burners.
Orders of $50 or more will land you free shipping!  You can shop online or visit the store in person for customizable gift sets available for men, women and babies.  They even do favours for weddings or showers and even offer wholesale shopping.
If you haven't paid them a visit, be sure to check them out online at https://www.bridlewoodsoaps.com/  or head over to visit them in person, their address is Unit 5, 450 Richardson Road in Orangeville, 519-942-2875. They also have a Leslieville (Toronto) location which is currently still under lockdown, 1126 Queen Street East Toronto.
We hope you pay them and all of the other great shops here in Orangeville a visit.  Shopping local is good for all of us!