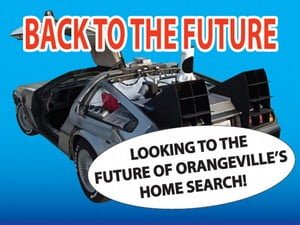 "YOUR FUTURE IS WHATEVER YOU MAKE IT, SO MAKE IT A GOOD ONE."
Emmett "Doc" Brown
With all the coverage of the Back to the Future movie and comparing it's vision of the future, we thought it would be fun to see how Marty's future home compares to today's Orangeville home.
October 21, 2015 is the date that the character Marty McFly travelled to in Back to the Future 2 and back to his future home. With images of virtual 3D glasses, trash bots, flat screen televisions, home automation, dog walking drones, video chatting, hand's free gaming systems, digital recipe reader, and a hydrator that cooks a pizza in seconds. It really isn't that far off from what we are seeing in today's home and what's to come.
Some ideas are true and some may not yet have been invented yet. Check out this new and exciting 3D Technology that a realtor in Vancouver is using to promote shopping for a home using this virtual tour. With all the frustrations of listing photos not living up to the actual house this new innovation is like a virtual open house where the buyer can pick up the house and move it around look inside and an upcoming version is promising that you can move the furniture, replace it, change the wall colour and flooring. Amazing!