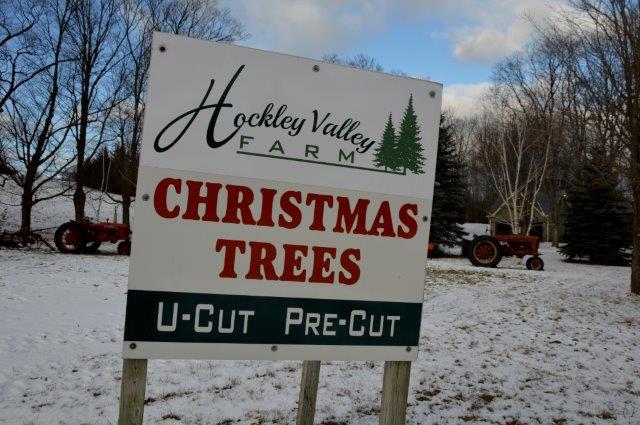 On Saturday, December 8th I joined my daughter, Aleks and her partner Adam, along with their four children in search for the perfect Christmas tree at Hockley Valley Farm. The farm has precut trees in various sizes but most families enjoy riding out to the field on a hay wagon to select a tree.
It didn't take long to find a tree in the seven to eight feet range that was also a perfect shape. The kids would have preferred to "hunt" longer in the fields because the trees did provide the ideal hiding place from one and another. They were easily persuaded to return to the barn for free hot chocolate.
Inside the barn were several booths offering crafts from many local vendors. The selection of goods was impressive and the prices were very reasonable. The two employees stationed inside the barn were very helpful and friendly. The kids had a great time looking around trying to convince their mom to buy them things.
Outside the Hockley Valley Farm offers families numerous activities such as roasting marshmallows over an open fire, horse drawn wagon rides, two antique tractors to explore and climb on plus the opportunity to walk around and enjoy their large rural property.
The staff was very helpful in wrapping string around the "perfect tree" and with some effort from Adam and Myles, the tree was securely tied to the roof of the car ready for the trek home. In all, we spent over an hour at the farm. There was so much to do and see that is was truly a fun filled afternoon for my four grandchildren.
Dufferin County has several tree farms from which people may choose from to try to find that perfect tree. I hope your family enjoys the tradition of cutting your own tree for Christmas.
[metaslider id=18366]