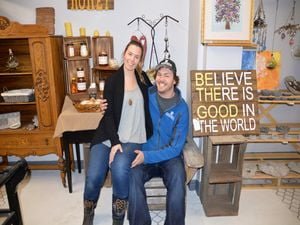 I noticed the name Alli Kat on a sandwich board on the sidewalk across from the Canadian Imperial Bank of Commerce. Out of curiosity I strolled down the alley way and found a burgundy door with the name Alli Kat painted on it so I ventured in. Inside the front entrance is a cleverly designed blackboard listing all the artisans who are offering their works of art on consignment sales.
I wandered down the narrow staircase and was immediately greeted by the young entrepreneurs, Trevor Hald and his partner Allison Katherine Stinson. Trevor stated that Allison deserves full credit for their new business venture which they opened on December 2 after months of renovations. Their motivation for establishing Alli Kat and their motto as stated by Allison is as follows: "we aim to encourage and inspire people to never stop creating".
Trevor and Allison are donating a portion of their profits to the local SPCA and Habitat for Humanity here in Orangeville. Their youthful enthusiasm includes the importance of giving back to the community. Allison mentioned during my tour of their store that they are looking for more artisans who can provide different and hopefully unique items.
At Alli Kat, workshops are ongoing. Trevor and Allison's vision was to provide a venue for local artisans and crafters to hold workshops such as stain glass and the ever popular fairy garden creations. These are only a few examples of potential workshops and hopefully many more will evolve as the year goes on.
Their little gem of a store has lots of interesting items for sale ranging from bullet jewelry, recycled skateboards, carpentry creations, terrariums, paintings and so much more. If you are out and about on First Street Orangeville, please drop in and see what Trevor and Allison have to offer.
[metaslider id=2032]