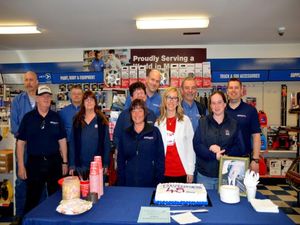 Davenports Auto Parts and Supplies was founded in Orangeville in 1972 by Gord Davenport. He opened his first store in the Mono Plaza with a staff of seven employees. In 1984 Gord moved his business to its present location at 74 First Street.
Gord expanded his business by opening up stores in Arthur, Bradford and Shelburne. His staff grew from the original seven to a dedicated team of 46 employees. His son Jim, is now the President of the company. Gord's daughter Pat, her husband John and their two children Steve and Kim all work at the Orangeville location.
Of interest, Steve Miller, started working for Gord at age 19 and has been with the company for 39 years along with his sister Diane (Miller) Bell. Diane started helping Gord when she was only 15 years old. They are posing with the first invoice issued by Gord to his brother Bill. Bill Davenport was operating a service station in Orangeville back in 1972.
In 2009 Davenports teamed up with CARQUEST as a main supplier of Auto Parts. According to Pat Kallay they just recently sold their Arthur location. On Thursday, May 25 they will be hosting a drop in for their valued customers, family and friends.
[metaslider id=2215]