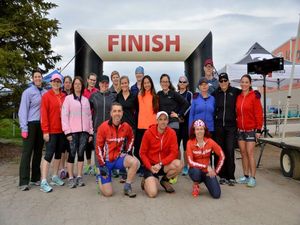 The Orangeville Lions Club held their second annual Seven Bridges Run on Saturday, May 13th around scenic Island Lake. This event featured a 5K and 10K races that started and ended at the Orangeville Agricultural Centre.
This highly successful event attracted 407 participants ranging in age categories from under 14 to over 60. This event is now attracting runners from the GTA. A group of ten young ladies from a running club in Toronto registered to try the Seven Bridges Run for the first time. Many of the club members reached the podium for placing first, second or third in their gender/age categories.
Each runner received a beautiful Seven Bridges medal which featured a photo of one of Bob's Bridges. Thanks to the generosity of Orangeville's Running Free and Scotiabank, $1500 worth of prizes were awarded for first, second and third place finishers in seven age categories. Shoes from Running Free were presented to the fastest 5 and 10 K male and female racers.
The Lions provided a vast array of food and drinks for the racers and the Agricultural Centre provided the perfect venue for registration and the award ceremony. All members of the Lions Club volunteered for the run in some capacity along with family members. Special mention goes to Jodi and Norm of Running Free for their continued support and guidance to insure that the event ran smoothly.
The immediate feedback from runners was that the Seven Bridges Run was a first class event. Racers were impressed with the number of volunteers who assisted along the route and at the Agricultural Centre in their orange t-shirts. The amount and quality of the food was also noted by many racers.
The Orangeville Lions hope to see an even larger turn out next year.
[metaslider id=2233]