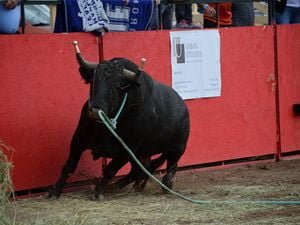 It has been a very busy and interesting week. On Saturday, May 27, Wanda and I along with Mike and Sheila Mullin drove to Erin to attend Ganadaria Sousa-Dutra's first Bull Run of the season. This family fun event follows the Azores traditional methods of bull running. It was truly exciting and worth the trip to Erin. It was heartwarming to hear from Natasha Sousa about how her family members are very proud of their Portuguese heritage and why it was so important to her dad to organize Bull Run events in Ontario. I took 299 photos which is proof of how much I truly enjoyed this event.
On Tuesday, May 30 I was invited by Constable Jeff McLean of the Shelburne Police Service to attend their seventh annual Law Enforcement Torch Run for the Special Olympics. Historically, the first LETR was held in Wichita by Kansas Police Chief Richard LaMunyon. Shelburne Police Services have embraced this run and during the past seven years their event has grown in terms of the number of participants and funds raised for the Special Olympics. The run concluded at No Frills with lots of food and beverages being offered to the participants.
My busy week included a four hour shift at Tim Hortons in support of Camp Day. I had the pleasure of working with my fellow Orangeville Lion, Sandy Brown. We actually enjoyed serving up double doubles and the many other combinations of hot coffee. Camp Day is a great cause and I actually look forward to volunteering and being on the "other side" of the counter but just for one day!
This coming weekend I will be "on the move" to the Orangeville Blues and Jazz Festival. Now I'm off to enjoy kayaking at Island Lake.
[metaslider id=2277]