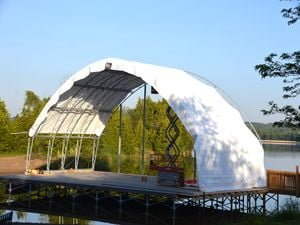 Wayne On The Move certainly applied last weekend. I began my busy schedule by taking photos of the installation of the new roof on the Island Lake Conservation Area's amphitheatre. Now that it has been completed, the amphitheatre will be hosting weddings, outdoor plays, concerts, yoga on the stage and so much more. It is a very impressive structure and worthy of a visit to the park just to see it.
Wanda, Sydney and I strolled over to Orangeville District Secondary School on Friday night to see the annual Relay for Life. The Orangeville Lions were there offering a hot meal for the participants which has become an annual tradition for the club. This event is one of the many local functions that raise money for the Canadian Cancer Society.
Saturday morning I drove over to the Compass Church to take photos of my many running friends who were participating in the Run4Food. Running Free's "Start to Run" program members were there in full force to participate in their first race. This event was very well attended with all proceeds going to the food banks in Orangeville and Shelburne.
Wanda and I took our two granddaughters, Nahla and Maliah, to the Amaranth Community Centre to watch the OPP Golden Helmets. About ten minutes into their performance it started to rain. I asked the girls if they wanted to go home and they responded with a very loud "no way". Their reaction speaks volumes about how much they were enjoying the performance of the precession driving team of the officers.
My weekend wrapped up by attending Burger Quest which was being hosted by the Edge Wine Bar and Grille. I was one of the judges who had to rate sliders prepared by some of the best chefs and cooks in our community. The sliders were mouth watering to say the least and I will definitely volunteer next year. The proceeds were for the oncology ward of Headwaters Health Care Centre.
My busy weekend is an indication of what Dufferin County has to offer and why it is such a great area in which to live and raise a family.
[metaslider id=2321]