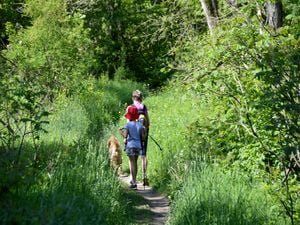 Wanda and I have just recently been reintroduced to the Bruce Trail by our friend Terri Holden. We were avid trail hikers until several years ago when I had an anaphylactic reaction after being stung by a yellow jacket. Five years of monthly injections containing yellow jacket serum and I can now safely traverse the many hills and side paths of the Bruce Trail.
The Bruce Trail is 890 km long with 400 km of side trails. It runs from Queenston, which is located near Niagara-on-the-Lake, to Tobermory. The concept of the trail originated in 1960 and was officially opened in 1967. The trail is maintained and promoted by a large group of regional volunteers. We are fortunate to have the trail running through Dufferin County.
Wanda and I were so impressed with the trails that Terri showed us in and around the Hockley Valley, that on the last professional development day, we took our granddaughters, Nahla and Maliah, for a hike. Nahla, the inquisitive one, kept stopping and asking questions. She was intrigued by the number of wild flowers, fungus and little critters we discovered during our hike. Maliah, who was providing me with instructions for taking photos, enjoyed our frequent stops for snacks and drinks.
Wanda and I do frequent the trails at Island Lake to go running but we do enjoy the fact that the Bruce Trail offers different challenges. The steep hills are great for strengthening leg muscles and improving cardio vascular health therefore hiking the Bruce Trail proves to be a great workout.
For more information about the Bruce Trail visit their website. The trail is great for people of all ages and I highly recommend that if you haven't hiked the trail that you add it to your things to do list for this summer.
[metaslider id=2363]