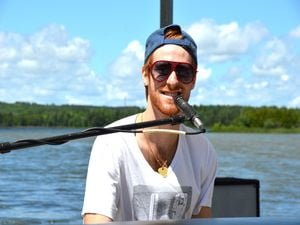 Graham Maycock preformed at the Island Lake Amphitheatre on Seniors' Day and at the Inaugural Islandpalooza. I was so impressed with his performances that I wanted to share his story.
Graham is the son of Warren and Michelle Maycock. He was born and raised right here in Orangeville. He began taking piano lessons at the age of eight which jump started this 19 year old singer-songwriter's journey in music. According to Graham it wasn't until he was a little older that he taught himself guitar. He was inspired by John Mayer, Neil Young and Pink Floyd which opened his ears to his first true love, songwriting. During Graham's high school years he spent the majority of his time developing his musicianship. Between teaching voice, guitar and piano at a local studio, to playing local gigs, to spending hours upon hours practicing and writing, he knew his connection with music was special.
Graham offered me this insightful quote, "Music has always made me feel something that nothing else has. The way I see it, music exists because there are certain feelings and emotions that we can't communicate through words alone… music opens the door to this new world of emotional and spiritual communication."
His journey into music took an advantageous path when in the summer of 2015, Graham performed in a local contest in which the prize was to record a free demo with 2 time Grammy nominated producer, Darryl Neudorf. Graham was fortunate to claim first prize and thus began the journey to recording his first studio album! Although this was no cheap feat, luckily he had saved up his money over the years of teaching and performing so that he could finally pull the trigger on his dream project. And so it began, it was all going very smoothly when Graham realized he needed a guitar solo in his song, 'Bluebird', which was beyond his capabilities at the time. Graham contacted another local musician, Dave Joesph, after two other musicians couldn't make the session.
Graham enthusiastically said, "Dave blew my mind when he started playing the first couple of bars; his guitar playing and musicianship were mesmerizing and I knew I wanted him to record the rest of the album with me".
Ten months later, Darryl, Dave and Graham emerged with the album 'Gray'. While talking to Graham following his weekend performance at Island Lake he expressed his desire to spread his wings and venture outside the comfortable borders of Orangeville. To gain recognition and to further advance his career, he is going to set off to larger cities starting with Toronto. He is willing to do anything it takes to succeed so the nightclub route seems to be the best avenue to take at this time.
I will keep in contact with Graham and share his stories in future blogs.
[metaslider id=2377]