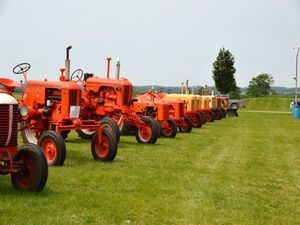 Bob Shirley has been collecting vintage tractors for over twelve years. He has travelled throughout Canada and the US searching for unique tractors and parts so that he could refurbish them to their original condition. His trips usually included his brother-in-law, Harvey Clark, and their mutual friend Tom Brett. Bob explained to me that his plan all along was to liquidate his collection as a favour to his two daughters so that they wouldn't have to deal with trying to sell them. Bob reassured me that he is in great health but he just felt it was the right time to have the auction. So on Saturday, July 22 Bob, Harvey and Tom held an auction which included his tractors but also many small engines, numerous antiques, tools, and Bob's collection of toy tractors.
The day began with the roar of the vintage tractors running for interested buyers to inspect at 9:00 am. At 10:00 Bob Severn and his team of auctioneers began moving up and down the rows of items up for auction. With an estimated crowd of 250 everything found a new happy owner by the end of the day.
Bob stated that people came from all over southern Ontario. One of his very rare and unique tractors sold for $12000.00. The tractor that caught my attention was one from Louisiana which is used for cutting sugar cane. He purchased this tractor from a dealer in Montana. This tractor went for $9 700.00. I was also impressed with his orchard tractor. Bob built this particular tractor from pieces he accumulated from all over the US. According to Bob each tractor took about 200 hours to refurbish. I overheard comments from interested buyers that a lot of time and effort went into them and that they all looked to be in great condition.
What surprised Bob the most was how much his toy tractors sold for. Many of them went for over $100. In the end Bob, Harvey and Tom were very happy with their joint sale. I did learn one thing while I went around taking photos. Don't raise your arm to wave at someone or you may end up unexpectedly buying something.
This auction is an example of Dufferin County's country charm. When looking for a home in or around Dufferin go with The Mullin Group who are always on the move!
[metaslider id=2421]