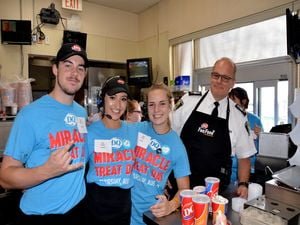 One of my favourite charity fundraisers is the annual Miracle Treat Day held at the local Dairy Queen. I love ice cream and especially blizzards but the main reason I'm drawn to this event is that it supports Sick Kids Hospital. The funds donated by John Lockyer will be used for families in the Orangeville area.
Wanda met one of her former elementary school students while we were busy enjoying our crispy crunch blizzards. Her ten year old son who had nine surgeries at Sick Kids and benefited from such fundraising events is now a proud volunteer whiling to give back. His grandfather was beaming stating that this young boy loves to play sports and is successfully attending school full time.
Wanda and I have always been impressed with the local support of dignitaries to volunteer. While we were there Constable Davis was behind the counter, Police Chief Wayne Kalinski along with MPP Sylvia Jones were busy delivering blizzards. Last year while I was volunteering, as a member of the Orangeville Lions Club, a group of Junior B Northmen players arrived to help out. Volunteers of all ages want to be a part of this worthwhile event.
Congratulations to John Lockyer and his staff for another highly successful Miracle Treat Day. This is another example of the amazing sense of community within the Orangeville area and this is why it is such a wonderful place in which to live.
[metaslider id=2463]